Britpop's Alan McGee's turn as Mountain Ash pub DJ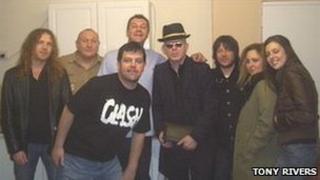 A Britpop pioneer who headed the record label which signed some of the 1990s' biggest bands is an unlikely resident DJ in a south Wales valley pub.
But Mountain Ash Inn regulars have been treated to sets from Alan McGee, the man behind Creation Records.
The label launched among others Oasis, Primal Scream and Super Furry Animals.
On Monday, Penrhiwceibr Institute holds a local premiere of Upside Down, the film telling the label's story, and McGee will be answering questions.
The music mogul called his unpaid work at the pub a "friendship thing".
"I got to know Tony Rivers landlord of the Mountain Ash Inn through (writers) Irvine Welsh and Dean Cavanagh who are friends of his," he said.
"Tony organised a Madchester night at the pub a few months back and asked Bez from the Happy Mondays to DJ.
"Tony loves Oasis and asked if I'd like to come down and DJ for a Creation Records night he was organising too."
He says he has had a great reaction at the pub.
"They go crazy. It's mayhem, people scream Oasis and Beatles songs at me."
Having made a hugely successful career out of spotting and nurturing talent, McGee said: "I think the music scene is about to explode down here.
"Because no-one from the music industry bothers to come to the valleys, people can develop their own sound, they're not under a media spotlight".
"It's interesting that there's all this talent kicking about which is completely untapped."
McGee name checks Cardiff band Broken Vinyl Club and Brecon-based Christian Pattemore as talent to watch.
When he signed Oasis he admited he never imagined they would find the success that followed.
"I signed them because I thought they were a great band, I never thought they'd be as big as they were," McGee said.
Landlord Tony Rivers admitted that having such a legendary figure as his pub DJ was a coup.
He added: "Alan's so down to earth. His roots are working class and I think he enjoys the atmosphere in the pub."
"When we took over the pub we decided we wanted to try and do something different. The valleys have always been a great area for live music but people have had to travel to Cardiff and Swansea to see bigger acts live.
"We're trying to give people something different that they can enjoy at home."
He has plans for live music at the Mountain Ash Inn and has a Mod, Northern Soul and hip-hop electro nights all in the pipeline.
He said: "Alan was telling me that he's travelling all around the world at the moment promoting the DVD release of Upside Down. He's been to Moscow, Paris, New York and now Mountain Ash.
"It's brilliant that he's doing gigs all over the world and now he's coming back to Mount."
Upside Down will be screened at the Penrhiwceibr Institute at 1830 BST on Monday, with a question and answer session with McGee.