German Shephard puppies missing after Cardiff burglary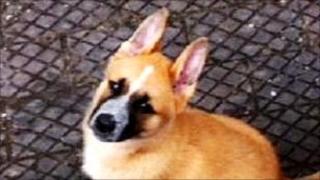 Police are investigating the disappeareance of two puppies and a female dog after a burglary in Roath.
The dogs went missing after the back door of a house in Mackintosh Place was forced open on 13 May.
It is unclear if they were stolen, harmed or escaped.
"There was blood at the premises but at this stage it is not known if this is human or dog blood." said Det Con Mike Owens
"We have conducted enquiries with neighbours but would appeal to the wider community to come forward if they have any information on this incident."
Local officers have been working with the RSPCA to find the dogs since the burglary was reported.
Anyone with information is asked to contact Cathays CID on 029 2052 7267 or Crimestoppers anonymously on 0800 555 111.