Dyffryn House may be taken over by the National Trust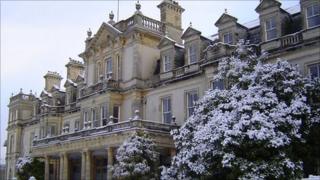 A council-owned mansion in the Vale of Glamorgan may be handed over to the National Trust to secure its future.
Around 50,000 people visit Dyffryn House and its Edwardian gardens each year.
A £600,000 lottery grant has been awarded to start a partial restoration of the Grade II listed building.
The Vale of Glamorgan council said the trust, which looks after similar properties, may be better placed to improve the visitor attraction.
The authority's cabinet will consider the idea next week.
Council leader Gordon Kemp said: "We understand the proposal could guarantee the house and gardens a bright future.
"The council has made great strides in renovating the gardens and progressing the renovation of the house with a view to eventually opening it to the public.
"However this beautiful property could benefit from the National Trust's vast experience in renovating, managing and marketing such sites."
'New opportunities'
More than £6m has been spent in recent years restoring the gardens to their original design and developing facilities including a cafe, gift shop, play area and education centre.
A further £600,000 has been secured from the Heritage Lottery Fund for the partial restoration of the house.
John Morgan, the National Trust's director for Wales, said: "Should discussions be successful, our priority would be to build on the council's work of restoring this special place.
"We would be focused on continuing the restoration of the garden rooms, arboretum and parts of the house whilst encouraging local communities to enjoy the facilities and to work with us to create new opportunities for social enterprise and recreation."
Last week Newport council decided to lease Tredegar House to the National Trust for 50 years.