Cardiff council meets school benchmarks in Estyn report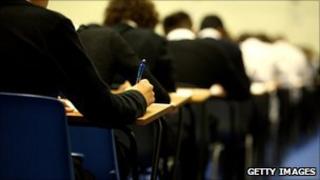 Education services in Cardiff have met or exceeded all of the Welsh Government benchmark expectations for the last four years, says an Estyn report.
But the education inspectorate said progress was too slow in attendance, exclusion and for those not in education, employment or training.
Cardiff is the third authority to be inspected under Estyn's new framework after Neath Port Talbot and Torfaen.
The council said changes in the identified areas were under way.
The report on the quality of local authority education services for children and young people in Cardiff, which is being published on Friday, found that the council's overall performance was "adequate".
Estyn said it found that Cardiff had effective arrangements to support and challenge schools, and had made good progress in developing its provision of school places.
However it found that the council's involvement with the Children and Young People's Partnership, a group of voluntary and community organisations which plans and delivers services, was not effective enough.
Among the report's recommendations was that this should improve.
Estyn said the council should also continue to raise standards at key stage 4, improve attendance, reduce exclusions and reduce the number of young people not in education, employment or training.
The report said elected members had shown strong leadership and consistent support for education services, and the chief education officer and heads of service provide good leadership to the schools' service.
The council's strategic plans reflected both national and local priorities well and there were clear links between most plans across the authority.
But the report said the council's methods of self-evaluation and improvement were not consistent, rigorous or robust enough.
Freda Salway, Cardiff's executive member for education, welcomed "the many positive aspects" of the Estyn report.
"However," she added, "the report has also identified areas where we need to improve.
"We have taken these on board and steps are already in place to make these changes."
Cardiff council leader Rodney Berman commented: "A strong emphasis has been placed on raising standards across the city by the council and we are determined to ensure that this work continues."
A Welsh Government spokesman said: "It is encouraging the local authority recognises the need for change and are taking action which we fully support."
The council has 50 working days to produce an action plan to show how it will address the report's recommendations.
Its progress will be monitored by Estyn.