Take That fan's anger at price rise after purchase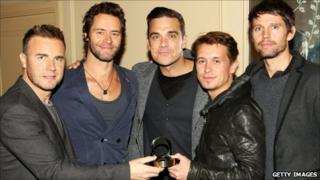 A Take That fan has complained after she was asked to pay more for tickets which she had already bought.
Margaret Lovett purchased six tickets worth £373 for the gig at Cardiff's Millennium Stadium on 14 June when a new batch went on sale last month.
But she received a phone call on Thursday from Ticketmaster saying her tickets were no longer available unless she paid about £20 extra per ticket.
Ticketmaster said the original price was "incorrect" but it waived the fee.
"I bought the tickets on 20 May - they were extra ones that were released online first come, first served," said Ms Lovett, of Risca, Newport.
"I bought six and paid for them and the money came from my account. Then Ticketmaster rang and said the tickets I bought were no longer available.
"They said they can offer me six other tickets and it would be £20-odd extra each ticket.
"I had already paid £373 and it was more or less pay up or you won't have your tickets. I feel like I'm being blackmailed."
A total of 1.75m tickets have been sold for the tour, which sees the original five members of Take That together on tour for the first time since 1995.
The band kicked off the 36-date tour in Sunderland on Saturday, performing to 54,000 fans at the Stadium of Light.
'Listing error'
They will then play in Manchester before performing two dates in Cardiff ahead of trips to Dublin, Glasgow, Birmingham and Wembley Stadium in London.
Ticketmaster did not confirm details on how many fans were affected by the error for the tickets bought in Cardiff.
"Due to a listing error, Ms Lovett's tickets were put on sale for the Take That dates at Cardiff's Millennium Stadium at an incorrect price," said a spokesman.
"This caused the tickets to be sold at a lower price than the correct face value.
"As part of our standard review process this error was picked up immediately after purchase and we contacted those few customers affected to inform them of this error and obtain the remaining costs or offer them a full refund.
"We do acknowledge that this customer bought her tickets at the price communicated at the time of purchase and whilst our terms and conditions of sale enable us to recover any excess costs attributable to incorrect pricing, upon review of this specific case as a gesture of goodwill we have decided to waive the additional cost to this customer."