Boo Radleys Martin Carr's partner's birth on Twitter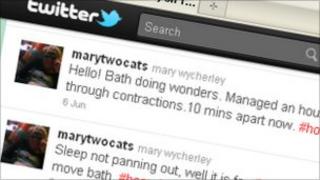 A couple from Cardiff have shared the home birth of their baby girl with a running commentary on Twitter.
Mary Wycherley and her partner Martin Carr were followed by thousands worldwide on the social network throughout the nine-hour labour.
Sailor Carr was born in the early hours of Monday.
Friends of photographer Mary and musician Martin, ex-leader of the Boo Radleys rock group, posted messages of congratulations in response.
The couple were watching TV at home in Cardiff on Sunday evening when their second child started to arrive.
Shortly after 2100 BST, Mary tweeted: "Waters have broken like the first waters!!!!" with Martin following with a message an hour later about the first contraction.
'Mind-bendingly interested'
The musician later went to bed, with his partner asking via Twitter after 0400 BST whether she should wake him up or call the midwife.
The midwife arrived and helped Mary deliver her daughter in a birthing pool.
As well as being followed by their friends, the couple were amazed that thousands were attracted to the birth.
Mary later posted: "Just want to thank Twitter and all those who were mind-bendingly interested in our homebirth today."
Radio DJs Lauren Laverne and Bethan Elfyn were among the friends of the couple posting messages of congratulations.
Here are some (edited) highlights of the couple's Twitter feeds:
@marytwocats waters have broken like the first waters!!!!
@Martin_Carr First contractions
@marytwocats girls, you ready to escort me through a potentially long night?
@marytwocats Martin and nana are making me laugh so much that I'm 'squirting' water and contracting simultaneously.
@marytwocats Oh man I've knackered the couch with amniotic fluid.
@marytwocats I keep having to go and change me kecks...soaked through 4 pairs so far..running out
@marytwocats Sleep not panning out, well it is for Martin Carr but not me. Next move bath.
@marytwocats Hello! Bath doing wonders. Managed an hour and a half breathing through contractions. 10 mins apart now
@marytwocats Should I wake Martin Carr up? He has got a BIG hairstyle to rest.
@marytwocats Actually I might call the midwife. It's cranking up
@marytwocats At this stage I am still in control of this mothership. Feels pretty good. 8 mins apart. Rest of house quiet
@Martin_Carr Things are moving now. Midwife has been called.
Heartwarming messages
@Martin_Carr marytwocats is in the pool. Gorky's 'Face Like Summer' is on, the creeping sunlight at the window. Wow.
@Martin_Carr It's a beautiful girl. Crying. Amazing.
@Martin_Carr I'm beyond proud of her and the baby, obviously
@Martin_Carr Thanks everybody again for your heartwarming messages. The keyboard I bought on eBay ten years ago has just arrived as well. Ace
@marytwocats Just want to thank Twitter and all those who were mind bendingly interested in our homebirth today. Who knew? Fizz, doughnuts and couch now x
@Martin_Carr Starting to regret tweeting during birth now. I don't want to go on telly, radio etc It wasn't meant to be an 'event'. In other news, happy.