Ebbw Vale crash death father sues driver Craig Ramshaw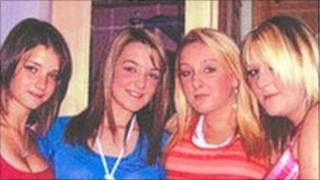 A father whose 16-year-old daughter died with three teenage friends in a car crash in Powys is suing the driver for his "mental anguish".
Terry Jones told a Cardiff civil court he had "lived a life of hell" since daughter Louise's death in 2006.
Louise died alongside Danielle Caswell, Katie Roberts and Kayleigh Parry on a mountain road near Ebbw Vale.
Survivor Craig Ramshaw, 22, was convicted of careless driving but is now being sued by Mr Jones.
At the time of the crash Mr Ramshaw was 18 and had just passed his test.
Mr Jones, 61, is claiming damages for the psychiatric injuries he suffered.
He is claiming for personal injury and loss as the "secondary victim" of the tragic crash, which saw all four girls thrown from the car as it swerved at Llangynidr moors.
He broke down in tears in Cardiff Court of Civil Justice as he recounted what life for him and his wife has been like since Louise's death.
He said: "Life since Louise was killed has been hell on a daily basis.
"All my wife and myself want to do is to die, words cannot adequately describe our sense of loss.
"Louise was the light of our lives and lit up all around her.
"When she left the house that night she kissed me and said she would be all right - half-an-hour later she was dead."
In court he recalled being stopped twice by a police road block when he learned of the crash.
He said: "About 40 people were milling round the road block including the fathers of the girls and other members of their families.
"When we were told that the four girls in the crash were dead the parents became hysterical - the effect was catastrophic.
"The police officer who told us just blurted it out. He was totally incompetent and totally unprofessional.
"When we saw the bodies at the hospital the parents were screaming - I'll never forget it."
Judge Anthony Seys Llewellyn, QC, was shown photographs of the crash scene including the car's skid marks.
A DVD with commentary which Mr Jones made of the journey from his Ebbw Vale home to the scene of the crash was also shown.
He points out where the police cordon lay and where he and the other parents had been told to wait on the night of the crash.
It also showed the roadside memorials to the girls.
The court heard Mr Jones has needed psychiatric help since Louise's death.
He added: "I'm bringing the action to bring closure and justice has to be done for Louise."
Consultant psychiatrist Dr David Thomas told the court: "Mr Jones is suffering from a severe form of chronic post traumatic stress disorder.
"What he experienced was extremely shocking and he suffered total emotional despair which was beyond belief.
"There has been a huge psychological impact on this man."
Mr Ramshaw, who is represented by barrister Nigel Lewis, was not present in court.
The case continues.