Man accused of Angelika Dries-Jenkins Narberth murder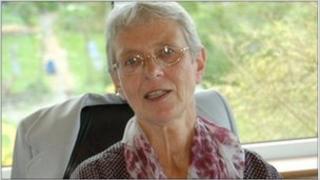 A 54-year-old man has been charged with the murder of Angelika Dries-Jenkins, a week after her body was found at her home in Narberth, Pembrokeshire.
John William Mason, from Pembrokeshire, will appear at Llanelli Magistrates Court on Saturday.
Ms Dries-Jenkins's body was discovered two days before she would have celebrated her 67th birthday.
A post-mortem examination confirmed Ms Dries-Jenkins had died from "substantial" head injuries.
She was found by her daughter, who had made a surprise visit ahead of her mother's birthday.
Ms Dries-Jenkins, a grandmother, lived alone at her home in Providence Hill.
Originally from Germany, she moved to Pembrokeshire 40 years ago on honeymoon and chose it as her home and a place to raise her family.
She was described by her family as a quiet woman with tremendous heart, spirit and fun.
An inquest was open and adjourned on Tuesday pending the outcome of police investigations.
Part of the investigation focused on Ms Dries-Jenkins' champagne-coloured Skoda Fabia which was taken from her home and found in St Thomas Green, Haverfordwest, on Saturday.
Thanks
Det Supt Pam Kelly, who led the investigation, said: "Dyfed-Powys Police would like to thank the communities of Pembrokeshire for their support and in particular, the information they have provided to assist the investigation.
"Clearly our condolences and offers of support are very much with Angelika's family at this time."
Supt Reg Bevan added: "This murder has caused a great deal of shock and concern across the county and everyone is relieved to get to this stage of the investigation so swiftly, which has been through tremendous support from the local community".
He said the past week had been particularly difficult for the area, which also saw four workers killed in an explosion at the Chevron oil refinery in Pembroke.
"We have had an unprecedented demand on police and partner agencies and emergency services during this period, and collaboratively, we believe we have met these challenges with professionalism and empathy."