Hurt Maesteg Turkey holidaymaker offered help by firms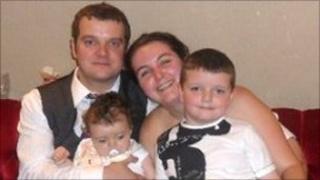 Two companies have offered cash to help repatriate a holidaymaker paralysed in a Turkish hospital.
Tata Steel and contractors Harsco told BBC Wales they would each give £10,000 to help bring Michael Lonergan home.
Mr Lonergan, from Maesteg, Bridgend county, broke his neck diving into the sea. His partner said the insurance underwriter would not pay out.
Ogmore MP Huw Irranca Davies said he was increasingly confident the matter could be resolved.
Mr Lonergan's relatives have said they have been told to pay about £43,000 to get him back to south Wales.
The family said they believed he was covered by insurance.
They said the cost of hospital treatment was around £23,000 and flying Mr Lonergan back to the UK would cost another £20,000.
Mr Davies said he was confident that the family would be in a position over the next couple of days to bring the injured man home.
"We have blown away by people's generosity, financial legally and otherwise," he said.
"The dispute with the insurance and underwriters is ongoing and I am desperately disappointed we have not been able to persuade them to show compassion and bring Michael home themselves.
"However, I am now increasingly confident we can resolve with this in a matter of days with some help from the Foreign Office and Michael will be back home in south Wales with the best medical care and surrounded by his family and friends where he needs to be."
Insurance underwriter ETI Travel Protection have refused to discuss his case, but said most policies had exclusions.
'Knocked unconcious'
Mr Lonergan, his partner Debbie, and their children Jack, five, and Grace, one, were on their first family holiday, staying at the Didim Beach resort in Altinkum on the west coast of Turkey, when the incident happened.
His partner said in jumping 3ft from a pier into the sea he misjudged the depth of the water and hit his head on the sand.
She said Mr Lonergan, a keen boxer who works at Corus steel works in Port Talbot, was knocked unconscious after hitting his head before being rescued from the sea by a member of the public.
However, she said the circumstances of his injury had been disputed by the insurer.
He was taken to hospital before being transferred to the private Ozel Gazi hospital in Izmir, around two hours away, through the insurance company and underwent surgery.
The rest of his family were put up in a nearby hotel. They said they were told on Wednesday the insurers would not be paying up.
Mr Lonergan has feeling in his arm and right leg again, but his family said doctors feared he may not get the use of his left leg back, while he cannot control any of his limbs.