Turkish hospital sends paralysed Michael Lonergan home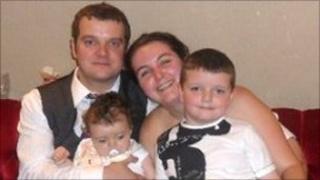 The Turkish hospital treating a paralysed Welsh holidaymaker has agreed to release him without payment.
The hospital will liaise with Michael Lonergan's insurance company over his treatment, costing up to £30,000.
The insurance underwriter has refused to pay and said clients should not expose themselves to "needless risk".
His family said he broke his neck diving into the sea, and his MP Huw Irranca Davies said air ambulance money has been secured through donations.
He said he was confident Mr Lonergan, 30, of Maesteg, would be home "by the middle of next week".
Ogmore MP Mr Irranca Davies said: "We are in discussions with the family there who are clearly distraught.
"We will get him home, it's just a question of when. I think it's more likely to be in the next few days."
Mr Irranca Davies criticised the insurance company for showing "no compassion" for the plight of Mr Lonergan, who is paralysed from the neck down.
But he thanked the Ogmore community for their "massive generous support".
'Astonishing tribute'
"It's an astonishing tribute to our local community. It's simply amazing," he said.
Tata Steel and contractors Harsco told BBC Wales they would each give £10,000 to help bring Mr Lonergan home.
Mr Lonergan's relatives have said they have been told to pay about £43,000 to get him back to south Wales.
The family said they believed he was covered by insurance.
They said the cost of hospital treatment was around £23,000 and flying Mr Lonergan back to the UK would cost another £20,000.
Insurance underwriter ETI Travel Protection has decline to discuss his case, but said most policies had exclusions.
'Knocked unconscious'
Mr Lonergan, his partner Debbie, and their children Jack, five, and Grace, one, were on their first family holiday, staying at the Didim Beach resort in Altinkum on the west coast of Turkey, when the incident happened.
His partner said in jumping 3ft from a pier into the sea he misjudged the depth of the water and hit his head on the sand.
She said Mr Lonergan, a keen boxer who works at Corus steel works in Port Talbot, was knocked unconscious after hitting his head before being rescued from the sea by a member of the public.
However, she said the circumstances of his injury had been disputed by the insurer.
He was taken to hospital before being transferred to the private Ozel Gazi hospital in Izmir, around two hours away, through the insurance company and underwent surgery.
In an earlier statement, Adrian Lawrence of underwriter ETI said the company was saddened by the incident, but could not discuss the case because of client confidentiality.
He said: "It is vitally important that members of the public who are travelling abroad act responsibly and as if they were uninsured.
"There are exclusions on most travel policies. One of the exclusions is wilful exposure to needless risk in any circumstances, except whilst in the act of saving or attempting to save a human life.
"It is very rare that we will make a decision not to pay out when one of our policy holders has been admitted to hospital whilst on holiday.
"Each case is considered individually and the vast majority of claims made are resolved quickly and in the customer's favour."