Kevin Brennan MP criticises London 2012 ticket system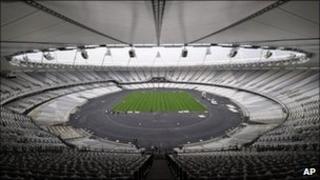 An MP has criticised the UK ticketing system for the London 2012 Olympic Games and said he has found it easier dealing with a French website.
Cardiff West Labour MP Kevin Brennan got tickets in the first round of the UK ballot, which means he will not get any in the second ballot.
But he registered on a French site, where he will know straight away if he has tickets and what they are for.
London 2012 has said those missing out will have priority in the next ballot.
The UK system took money from accounts before saying what the tickets were.
"It was ludicrous on the UK site because you could apply for a whole bunch of tickets but you had to have a professorship in games theory to work out what was the best strategy to choose which tickets," he told BBC Radio Wales' Sunday Supplement programme.
"Lots of people have ended up getting something - perhaps a minority sport they didn't really want to go to, and are now being shut out from the next round.
"I got a few tickets but I don't know what they're for. They haven't even been able to tell me what those tickets are for yet.
"Listening to BBC Radio is very informative and I heard you could apply on a French website which I've done.
"It's not yet opened up. I think it's today and tomorrow to actually go for tickets, but it was much simpler, much more straightforward.
"You just register for the website, you go in and see if they've got any tickets for the sports that you want."
Mr Brennan has already raised the issue of Olympics tickets in business questions in the House of Commons.
More than half of people who applied for tickets did not receive any in first UK ballot.
About 1.8m people applied for the 6.6m public tickets available with about 55% of applicants missing out.
The million who were unsuccessful will have priority in the next ballot, but no tickets remain for the opening and closing ceremonies or athletics finals.
An authorised ticket seller in Germany is also offering tickets for badminton, boxing, weightlifting and wrestling without any need for registration.
"It doesn't seem to me to be beyond the realms of man or woman to design an online site where you open it up without it crashing, where you can go in and go for the tickets you want," added Mr Brennan, a business minister in the last government.
A second round of ticket sales is due to start later this month and as many as a million more will be released next year when venue capacities are confirmed.
So far 1.8m people have made 20m bids for 6.6m on sale
Last week, London 2012 chairman Lord Coe said: "I clearly understand the disappointment of those who didn't get tickets but it is very important to recognise there are new stages - we will have a first come, first served second round for people who haven't got any tickets at all."