X Factor's JLS to perform at Swansea's Liberty Stadium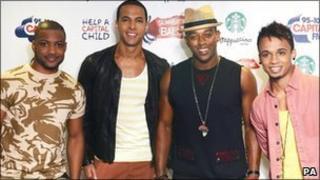 Organisers have reassured JLS fans that Sunday evening's concert at Swansea's Liberty Stadium will go ahead despite heavy rain.
The chart-topping boy band are set to play to a sell-out 26,000 crowd, supported by fellow X factor star Olly Murs.
Organisers made clear, despite rumours to the contrary, the show was on.
Fans are being advised to dress appropriately for the rainy weather conditions.
One of the hottest acts in the country, JLS - whose name comes from Jack the Lad Swing - have won two Brit Awards since taking part in the reality TV talent show in 2008.
They will be supported at the Liberty by solo artists Olly Murs and Alexis Jordan.
'One to remember'
The band have had number one successes with singles including The Club is Alive, Love You More, Beat Again and Everybody in Love, and achieved a quadruple platinum debut album JLS, with a second album Outta This World released in 2010.
They also scooped two Brit Awards for British Breakthrough and British Single for Beat Again, along with two MOJO Awards.
Last summer, the band sold out 10,000 tickets in less than an hour when they performed at Ponty's Big Weekend.
Pablo Janczur, director of Orchard Entertainment, said the concert will be "one to remember", especially in the wake of Swansea City's promotion to the Premier League.
"With the Swans going up there's a real buzz around the city at the moment and the party's going to carry on this Sunday at the Liberty with two of the biggest acts in the country really excited to be performing in Swansea," he said.
A spokesman for Orchard said on Sunday: "The public are advised to dress appropriately for the weather conditions".