Average speed limit on M4 at Newport is lifted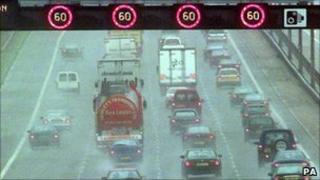 The 50mph average speed limit on the M4 at Newport has been lifted with work on variable speed limit signs completed.
It was in force between the Coldra (junction 24) and Tredegar Park (28).
The Welsh Government says motorists will now enjoy safer driving conditions and more reliable journey times.
Transport Minister Carl Sargeant said: "This route plays a major role in the connectivity of Wales and is essential to the future prosperity of our economy."
"Replacement of the average speed cameras with variable speed limits (VSL) will achieve this by using new technologies to help ensure that our road network runs smoothly."
VSL works through sensors in the road detecting traffic starting to build up that could cause congestion, adjusting the speed limit shown on overhead electronic signs to keep traffic flowing.
The mandatory 70mph (113kmph) national speed limit will apply during normal free-flowing traffic conditions.
The eight mile stretch of motorway was described by the Welsh Government as the busiest road in Wales and suffered from an above average accident rate.
Average speed cameras had been in operation along the stretch of the M4 since September 2009.
The cameras triggered penalty notices when the 50mph (84kmph) limit is exceeded.
More than 6,500 drivers have been issued with tickets according to figures in December 2010.
Previous VSL projects have been said to improve traffic flow and safety on the M25 and M42.
Ministers expect the system on the M4 to result in savings worth £40m over a 30-year period in terms of reduced accidents and time lost due to congestion.