Scrutiny of Covanta's Merthyr waste plant plan extended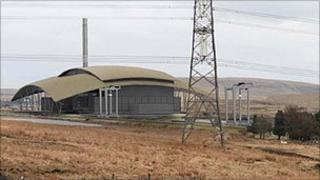 The time to scrutinise plans for a controversial £400m incinerator near Merthyr Tydfil has been extended.
US company Covanta Energy wants to build an energy-from-waste plant which would burn 750,000 tonnes of non-recyclable waste every year.
However, recent changes to the scheme have led to calls for delays from opponents.
The body deciding on the plans has now agreed a two-month extension to allow views on the changes to be heard.
Covanta says the Brig y Cwm plant will generate enough energy to power homes in the Merthyr and Caerphilly areas.
But last week's meeting held by the UK government's Infrastructure Planning Commission (IPC), which examines applications for nationally significant projects, heard that the company had changed its planning submission.
The meeting discussed the implication of the changes, particularly changes to the height of the building.
Covanta said it also no longer intended to cut three metres into the topsoil and remove the material by lorries from the site.
'Significant benefit'
The company said the changes were made after it had identified a means of reducing the amount of spoil that would need to be removed from site during construction.
A statement said that, overall, there would be a "significant benefit in reducing the amount of construction traffic".
The plant, which aims to employ 81 people permanently, would take the waste mostly by rail.
But the IPC has agreed to allow further time "for views on the proposed change to the original application".
It said in a statement: "The chair of the Infrastructure Planning Commission has decided to extend by two months the examination of the proposal for an energy-from-waste power station to be located at Brig y Cwm, near Merthyr Tydfil in Wales.
"This will ensure that all interested parties have a fair opportunity to make representations on the application and provide evidence to the examining authority."
The examination will now end "no later than 8 February, 2012".
Covanta has already held consultation days in the Merthyr area, and reduced the size of the proposed site.