Portrait of Nobel scientist Martin Evans on show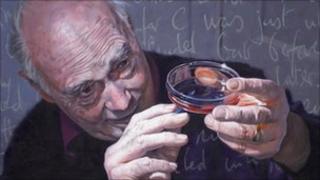 A painting of Cardiff University's Nobel prize-winning president has gone on display at the National Portrait Galley in London.
In 1980, Professor Sir Martin Evans became the first scientist to isolate and identify embryonic stem cells.
The portrait, by David Cobley, shows Sir Martin's eureka moment as he looks at cultures in a petri dish.
Sir Martin said he was "delighted" Cobley chose to capture him on canvas.
The portrait was unveiled on Monday.
Sir Martin described the portrait as a "great honour".
"I am absolutely delighted to have had the opportunity to be painted by such an eminent portrait painter as David Cobley.
"I totally admire his astounding ability," said the scientist.
Cobley's portrait saw him visiting Sir Martin both at the university and at home where he sketched the scientist in pencil and oil.
'Compelling portrait'
During the meetings, he prompted discussion on Sir Martin's views on stem cell research and was invited to attend his investiture as president of the university in 2009.
Sandy Nairne, Director of the National Portrait Gallery, said: "This is an important new portrait of a very significant figure.
"I am delighted that David Cobley has created such a compelling portrait."
The portrait features a background of writing from Sir Martin's notebook.
Cobley said he was keen to show Sir Martin's "gentleness and curiosity", at the same time as his groundbreaking moment of discovery.
Sir Martin won the Nobel Prize for Medicine in 2007.