Uwic students' Cardiff protest over architecture cuts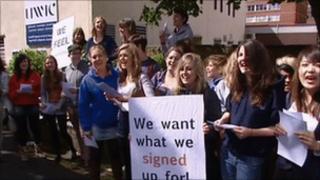 Interior architecture students at the University of Wales Institute, Cardiff (Uwic) are staging a protest about the course's closure.
The university announced in January it was closing the BA course, with the loss of four lecturers.
The students have chosen the university's open day to protest to try to discourage prospective entrants.
A Uwic spokesman said continuity for current students will be maintained.
Other Uwic courses facing the axe include BA in interior architecture, BA sociology & criminology/popular culture, the BSc in music technology and design/sonic arts, and BA in media studies with visual cultures.
Thomas Pritchard-Jones, second-year rep for the interior architecture course, said its reputation was "world-renowned".
He told BBC Wales: "There's been no communication or consultation with Uwic up until they gave us a new teaching out plan.
"If they had given us the time of their meetings and liaised with students to say 'we are cutting this course but how can we maintain the quality that you signed up for', they would have found out how serious and distressing this situation has become for us."
He said those already enrolled on the course, for which the final qualification is 100% judged on final year assessments, would be taught by tutors with no experience of the discipline and the quality of the course would be degraded.
Interior Educators, an organisation established by academics to represent interior design/architecture courses, has previously sent a letter signed by representatives from 37 universities and colleges to the university urging a re-think.
Graeme Brooker, director of Interior Educators, and a former tutor on the Uwic course, said: "The way this has been handled is appalling and disastrous and the teaching out plan for third year students is just not satisfactory in our view.
"The university has broken the promise of what these students signed up for."
A Uwic spokesperson said it was aware of the protest.
"As we have previously stated to the students concerned, Uwic remains committed to ensuring that the quality of learning and teaching for students on its interior architecture programme is maintained during its teaching out phase.
"Measures have been put in place to ensure that current students will continue to study the same programme and curriculum and have access to the same technical support.
"Uwic has undertaken to provide sufficient and appropriately qualified academic staff to undertake this work and we have every confidence in the delivery of the programme in the years 2011/12 and 2012/13.
The spokesperson added: "We will continue to monitor the delivery of the programme and expect the same exacting levels of quality assurance that all courses at UWIC have to meet."
Cuts were also proposed to the modern languages department at Swansea University but later withdrawn.
It is opening a new academic department of languages, translation and media in August.