Boy talked of killing ex-girlfriend Rebecca Aylward, 15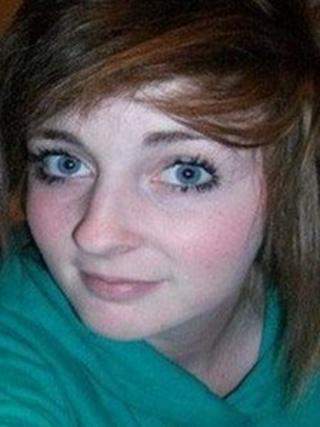 A schoolboy accused of murdering a former girlfriend had talked about killing her to friends, a court heard.
Rebecca Aylward, 15, of Maesteg, near Bridgend, was battered to death and her body found in woodland last October.
A 16-year-old boy, who cannot be named for legal reasons, denies murder.
Swansea Crown Court heard that the subject of the murder became a regular text topic between the defendant and his friends. The trial continues.
The prosecution said the boy claimed it was a friend who killed Rebecca.
But opening the case, the prosecution said they would prove that the teenager could not have been murdered by the boy's friend.
The court heard her alleged killer lured her to a wood near Bridgend where he smashed her head with a rock.
He had previously told her to let it be known she was meeting someone else to avoid suspicion.
However, she decided to tell her mother the name of the person she was meeting, the jury heard.
The prosecution described the trial as an "unusual case with unusual difficulties" because "it's a teenage murder".
Rebecca, who was also known as Becca to her friends, was killed on Saturday 23 October, at the start of half term.
Her body was found early the next day.
Left for dead
She was described as popular and bright, and the prosecution said she had been due to sit her GCSEs this summer and had been expected to do well.
"There is no doubt that Rebecca Aylward was murdered," said Greg Taylor QC.
"She was hit a number of times to her head with a rock in a forest at Aberkenfig.
"It was raining and she was left for dead lying face down on the wet forest floor in new clothes that had been bought for her the day before.
"The prosecution say that the boy who sits before you here committed this murder.
"The defence say that he had nothing to do with it and that Rebecca was killed by his best friend."
On one occasion, the defendant talked to friends about killing the girl but they assumed he was joking.
Text topic
They later told police he had a reputation for saying he was going to do things he never subsequently did.
But in a later text to one friend, he asked: "What would you do if I actually did kill her?"
The friend replied: "Oh, I would buy you breakfast."
Mr Taylor said: "It is difficult to know, isn't it, if someone could be serious about something like that."
The jury heard that the subject of the murder became a regular text topic between the friends.
The defendant contacted his friend two days before Rebecca's death, texting: "Don't say anything but you may just owe me a breakfast."
The friend replied: "Best text I have ever had mate. Seriously, if it is true I am happy to pay for a breakfast."
The defendant adds: "I hope by then it will be done and dusted."
Murder scene
Mr Taylor said the teenager kept in touch with his friends by text as he led Rebecca into dense woodland in Aberkenfig.
The court was told that the defendant later called the friends to join him in the forest, but only his best friend went to the murder scene.
The friend later told police in an interview how shocked he was to discover the body.
The defendant is alleged to have told friends to delete their text messages and he would delete his.
Mr Taylor said police found Rebecca's body after the parents of one of the teenagers called them after he had broken down at home.
Police dogs located the body and officers singled out a rock as the murder weapon.
The court was told that forensic testing established it had hundreds of fibres from Rebecca's coat on it and also fibres from the defendant's jacket.