Cardiff: St Anne's Church in Wales school marks closure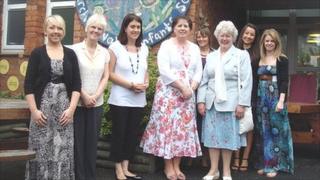 Past pupils and staff have returned to a Cardiff infant school facing closure to celebrate its 132-year history.
St Anne's Church in Wales Infant School in Roath held an exhibition on Friday to mark its closure as part of a reorganisation of the city's schools.
The exhibition showed photographs, inspectors' reports, registers and more from the day it opened in 1879.
Anne Wright, one of the oldest surviving pupils, who will be 100 in October, was at the celebration.
She still lives just a couple of streets away from the school, and said: "I enjoyed it here.
"We didn't have these small chairs and tables - we had heavy desks with inkwells.
"I can't remember the name of my headmistress, but she was very fond of the cane."
The building opened as Crofts Street National School in April 1879.
It became St Anne's Church in Wales Primary School in 1949, becoming an infant school in 1954.
'Party atmosphere'
Head teacher Clare Lewis said the school had 220 pupils when it opened, falling to 80 in recent years, and now just 20 pupils as the school prepares to close.
"They're very little so a lot of them don't realise what's happening," she said.
"But it's very much a party atmosphere so they understand we're celebrating something."
"There is that sadness, but today is all about celebrating the life of the school - and what a life!"
The school's older pupils helped prepare the exhibition of old certificates, photos, report cards and other memorabilia.
Ms Lewis said the children even had a taste of Victorian-style education.
"I think they found the 1879-style lessons very scary, much more strict. They're much more used to hands-on lessons."
The open day on Friday followed a service of celebration in the neighbouring St Anne's Church attended by former pupils from as far away as France and Germany.
Young love
Maldwyn and Marion Morgan, now in their seventies and married for 55 years, were among those returning to the school where they met at the age of four.
Mrs Morgan said her husband had moved to Cardiff from Penygraig, Rhondda, when his father had to give up working in the mines due to ill health.
"His mother asked my mother where the nearest school was," she said.
"He was a scruffy herbert who liked pulling my pigtails!"
It was wartime, but Mrs Morgan said their school days at St Anne's were happy.
"Nobody had anything, no sweets, so there was nothing to fight over. Everyone just played together."
The couple married at the age of 19 and moved to Norfolk and Singapore during Mr Morgan's service in the RAF before returning to Cardiff.
Mr Morgan said it was sad to see the school close as it still held fond memories for them.
"We always come past and have a look - when we heard it was closing we couldn't believe it.
"We thought it would go on forever."
The school will close its doors for the last time on 21 July as part of Cardiff council's reorganisation of the city's schools.
A decision about the future of the building will be made by the Diocese of Llandaff, which is in discussion with a number of groups interested in taking it over.