Mountain Ash robbery 'smooth criminal' suspect sought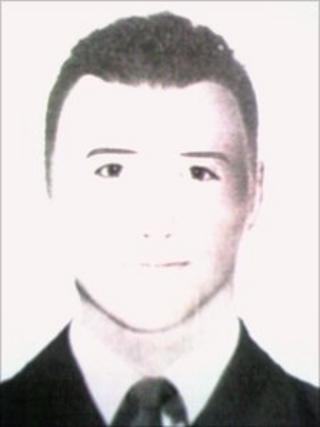 South Wales Police investigating a robbery when a family were tied up have released an e-fit of a suspect they have nicknamed the "smooth criminal".
He was part of a group posing as policemen who tricked their way into a property at Mountain Ash, Cynon Valley, on Monday.
Silver ingots and the family's life savings were taken in the raid, which left them uninjured but shaken.
Police appealed for anyone who recognises the e-fit to come forward.
Det Ch Insp Huw Lewis said: "The victims managed to give us an excellent description of the main suspect, so we hope this e-fit may trigger the memory of someone who may have been in the area at the time, or rouses somebody who may know who this person is.
"We have described the man who did most of the talking as the smooth criminal. He was extremely calm throughout the incident.
"He managed to talk the whole family into believing he was a police officer at the time, and provided very believable explanations for the actions he and his accomplices took."
The family were awoken by a knock on the door of their home in Albany Street at about 0730 BST.
'Supremely confident'
The main suspect said he needed to do an immediate search of their property.
He has been described by the family as supremely confident and convincing.
Police said the family allowed their hands to be tied after they were led to believe it was police procedure while the search was made.
They did not realise they had been tricked until after the suspects had made off.
It is thought the group fled the scene in a dark BMW, which turned right into Arthur Street, probably leaving the immediate area via Llanwonno Road.
"We also know grey plastic ties and blue rubber gloves were used by the men to incapacitate the family and make their search of the house," said Det Ch Insp Lewis.
"We appreciate these are quite widely available but believe that anyone who may have sold them to this person would have remembered him if prompted.
"They are also normally sold in packets so if anyone has noticed them lying around out of the blue then they could have valuable information."
He said it was an unusual crime but he believed the truth "lies locally".
The suspect was described as being white, in his early 40s, 6ft (1.8m), of medium build with a "long" face.
He was said to be good looking, with brown eyes, black hair cut short, neatly combed and receding at the front.
He was wearing a dark, waist-length tailored coat which was done up at the front, with a very light blue shirt and tie which was dark with very thin stripes. He was also wearing dark trousers, dark shoes and a gold-looking wrist watch.
Anyone with information can contact the incident room at Merthyr Police Station on 101 or call the independent charity Crimestoppers anonymously on 0800 555 111.