M4 crash: Holiday family deaths 'accidental'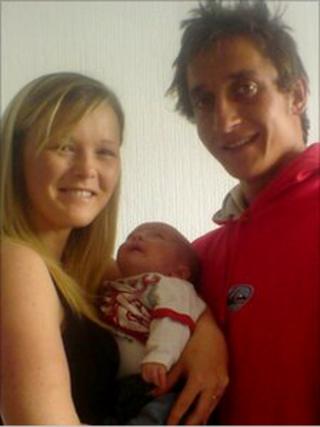 Three family members died in an M4 crash on their way home from a holiday because the driver probably fell asleep at the wheel, an inquest has heard.
Louise Evans, 23, partner Thomas Padden, 20, and his father Stephen, 56, who was driving, all died near Cardiff.
Two in the car wearing seatbelts - Thomas Padden's mother, Suzanne, and the young couple's six-month-old baby, Logan - survived.
Accidental death verdicts were recorded.
"It is extremely likely that Steve fell asleep at the wheel and that's what caused this," said Cardiff coroner Mary Hassell.
"Compound that with Steve, Louise and Tom who weren't wearing seatbelts, the only two who were Suzanne Padden and the baby who survived intact.
"The three who weren't were thrown out of the vehicle."
The family were returning to Porthcawl on 17 January 2011 after a surfing holiday in Morocco.
Their Peugeot 406 crashed between junctions 32 at Coryton and 33 at Cardiff West. It was the only vehicle involved.
Driver Stephen Padden was suspected to be suffering from a sleep disorder when he nodded off just 10 miles from home on their 200-mile journey back from Gatwick airport.
Nursing manager Mrs Padden told the hearing how she had booked afternoon flights back from Morocco to avoid her husband driving late at night.
But the flight was delayed for five hours and the family landed at Gatwick at 1945 GMT before setting off on the four-hour drive back to Wales.
Mrs Padden said: "As a qualified nurse, I believed that Stephen had some sort of sleep disorder.
"I booked the afternoon flight to avoid him driving at night. But because of the delay we didn't arrive until the evening.
"I can't be sure that made Stephen anymore tired but it certainly didn't help."
Mrs Padden, 51, said her husband "was not himself" during the holiday and said Warfarin tablets he was taking for deep vein thrombosis were giving him flushes.
She told the inquest how they stopped for a meal and coffee on a service station en route.
She said: "I asked Stephen if he wanted me to drive but he said he was fine after the coffee.
"I fell asleep and the next thing I remember the car was rolling and there were loud bangs. It felt like a dream.
"My first reaction was for the baby but I could see he was in his car seat. To my horror no-one else was in the car.
"I was screaming. I could see that Tom was lying in the road and I could tell he was critically injured.
"Further down I could see two bodies - they were not moving and I presumed they were dead."
Stephen and Louise were pronounced dead at the scene, while ex-Welsh junior surfing champion Tom died the next morning in hospital.
She told how Stephen would stop breathing for 12-14 seconds at a time when he was asleep before taking a "deep breath."
Mrs Padden said: "I kept on to him to see his doctor if there was a problem. If he went to the doctor he did not follow up any advice."
The inquest heard the family GP said Stephen had not been treated for sleep disorder.
A statement from the family said: "Louise, Thomas and Stephen passed away as a result of a tragic accident.
"Their death has left a huge void in the lives of so many, it has left a young child without parents and grandfather.
"All family members would like to thank everyone for their support."