MP Stephen Crabb's hope for Milford Haven coastguard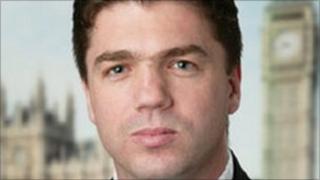 A Conservative MP says he is "optimistic" that a Pembrokeshire coastguard station will be saved from closure.
The UK government is reviewing proposals to close more than half of coastguard centres, and cut 24-hour rescue stations from 18 to three.
Milford Haven was earmarked for closure but Stephen Crabb said there were "strategic reasons" to keep it open.
A final government decision is due by the middle of next month.
A petition, signed by 20,000 people, was presented to Downing Street on Tuesday by opponents of the plans, including Pembrokeshire-based round-the-world sailor Rosie Swale Pope.
Under the government's original plans for the modernisation of the coastguard network, Milford Haven and Holyhead stations were to close and Swansea would become part time, operating in daylight hours only.
Opponents of the proposed closures say they will risk the lives of those using the coastline and inshore waters, and lead to a loss of local knowledge in those coordinating rescues.
Protests
Mr Crabb, who is a government whip at Westminster, told BBC Wales: "I'm very optimistic that Milford Haven coastguard station will be saved.
"I hope I'm not being presumptuous in that optimism.
"I think there's still work to be done which is why it's great that the campaigners are here today, handing in the petition, and why the job for myself and the other elected community representatives is to keep making the case to ministers about the importance of Milford Haven."
Ministers insist safety would not be compromised.
The proposals have seen protests at both Milford Haven and Holyhead.