Gwen Poole death: 'Failings' found in care of killer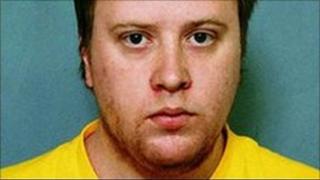 The random killing of a woman in the street by a man with schizophrenia was preventable, a report has found.
Martin Davies, 23, stabbed Gwen Poole, 66, with a bread knife as she waited for a lift in Llanbradach, Caerphilly, in 2009.
Heath Inspectorate Wales (HIW) said it had "serious concerns" about Davies' case.
NHS Wales apologised for the failings and the chief medical officer for Wales said incidents like it were isolated.
Mother-of-two Mrs Poole was on her way to play skittles at a local working men's club when Davies randomly attacked her as she stood waiting for a lift from a friend in March 2009.
Davies was detained indefinitely in a high-security hospital fourteen months later after he admitted her manslaughter on the grounds of diminished responsibility.
Hospital discharge
The HIW report found there was a "great deal of evidence" that Davies was likely to harm himself or others in a crisis.
It also found "many shortcomings" in his care over a number of years and "failings" by various health and social care organisations and care providers.
In the two months before the killing, the report identified that opportunities were "missed" to admit him to hospital either as an informal patient or under the Mental Health Act.
Dr Peter Higson, chief executive of HIW, said the report highlighted many concerns in Davies' care.
"In particular... [Davies's] discharge from hospital in October 2008, following a long period of detention under the Mental Health Act was not managed properly," he said.
"His discharge was followed by a series of missed opportunities to provide better and more structured care to Mr H."
An outreach team tried to provide support during the weeks before Mrs Poole's death, but it was only available on weekdays and was not sufficient to "meet Mr H's complex needs."
Davies had asked to be admitted to a hospital unit before he killed the pensioner but had been refused, according to the mental health charity Sane.
He had been released from a psychiatric hospital four months before and was being monitored on a daily basis by a community care team who were administering medication.
NHS Wales chief executive David Sissling apologised for the failings that led to the killing.
"This is a very serious and deeply distressing situation for all involved," he said.
"Such reviews may reveal failings in the level of service provided and it would appear that, in this case, there were significant shortcomings in the support, care and treatment afforded to Martin Davies."
Mental health treatement provider Cygnet Health Care said it accepted the HIW report's findings.
"In line with its recommendations, we are already working with the Welsh statutory bodies to ensure that patient discharge planning is as rigorous and robust as we can possibly make it," it said.
Isolated incidents
"We are deeply saddened by what happened and are determined that nothing like this should ever happen again."
Aneurin Bevan Health Board and Caerphilly council also and offered a "sincere and unreserved apology".
They said they accepted the failings found within both organisations and have take action to prevent such circumstances happening again.
Tony Jewell, chief medical officer for Wales, said that incidents such as this were isolated.
"While risk can never be eliminated entirely, we must do our utmost to reduce it," he said.
"Across Wales, we are making significant improvements in training clinical and other staff to ensure that they can assess effectively the risk that individuals pose to themselves and to others."
NOTE: This article originally included a claim, based on a news agency report from court in May 2010, that Martin Davies "had been taken to the shops by one of the team members and had bought vodka, Coca-Cola and cigarettes, and later drank the vodka".
However, the HIW report found that staff were put in an "extremely difficult situation" when they found that Davies had bought a half bottle of vodka.
The report said they they did not have the powers to remove items from him, and concluded: "We find that, given this scenario... staff acted professionally and did all they could".
It said they advised him "not to drink the vodka, reminding him that he needed to be well-behaved for his grandmother and ensuring that he was settled before leaving him with his brother".