Open verdict on Welsh tourist Lavern Ritch's US death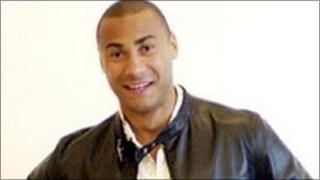 An open verdict has been recorded into the death of a tourist stabbed in the US by a man he was trying to help.
Lavern Ritch, 37, of Penarth, Vale of Glamorgan, was attacked by Robert Davies, in New Jersey in August 2007.
Davies, 49, was jailed for 21 years for reckless manslaughter this year.
The Cardiff coroner said she had no option for her verdict because she could not bring any witnesses from the US.
Mary Hassell told Mr Ritch's family: "I feel completely unable to make the judgement without having heard the witnesses first hand."
Mr Ritch, a former contestant on the TV show Gladiators, had been visiting with friends in Margate, New Jersey, when he was killed.
Restaurant
The inquest heard how Mr Ritch, a personal fitness instructor and swimming coach at a Cardiff sports centre, joined in a chase through the streets to try to help his killer.
The chase began after Davies had been punched in the face moments earlier and left bleeding after insulting a Mexican man.
Davies was cleared of murder at the trial in April, after claiming he had acted in self-defence, wrongly believing his victim was a member of the group chasing him.
Det Con Paul Hurley told the inquest:"Lavern was on holiday in New Jersey when he went for dinner at a restaurant in the town of Margate.
"After the meal he was waiting to catch a taxi with some friends when he saw someone being chased."
The inquest heard he saw Davies running after Mexican Mario Chavez after a row in a bar toilet - but Davies mistook Mr Ritch for another attacker.
Mr Hurley said: "Lavern held up his hands and told Davies: 'Look I'm just trying to help you'. But at this point Davies stabbed him in the chest.
"Davies fled the scene and Mr Chavez approached Lavern who told him: 'I've been stabbed'."
Speaking outside the inquest, Mr Ritch's brother Tony said: "Hearing the verdict it hits you that he's actually gone.
"It's been hard because you relive the moments - I remembered how it felt when I first heard Lavern had died."
Mr Ritch's sister-in-law Joanne added: "He can finally rest in peace and we can get on with our lives.
"Not that he will ever be forgotten but at least now we can grieve."