Rebecca Aylward murder: Boy 'urged to look at her face'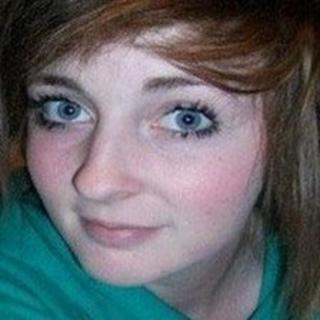 A schoolboy has described how he was urged to look at the face of murdered teenager Rebecca Aylward by his best friend, who is accused of killing her.
The boy told Swansea Crown Court he was taken into woods near Bridgend by his friend to see her body.
Rebecca, 15, of Maesteg, was found dead in the woods in Aberkenfig last year.
The 16-year-old accused, Rebecca's ex-boyfriend, denies murder, and claims the friend who was with him in the woods is guilty. The case continues.
The teenager on trial is accused of battering Rebecca to death with a rock. After the two boys met the accused is said to have urged his friend: "Look at her face".
Neither boy can be named.
The court heard that Rebecca, of Maesteg, in Bridgend county, was murdered after going to meet her ex-boyfriend in the hope of rekindling their relationship.
The jury was told that she had bought new clothes ready for the meeting.
Shell-shocked
The court heard how moments after her death the accused phoned his friend to meet him at a nearby gorge in the woods.
His friend told the court: "He seemed relieved to see me and seemed to take a deep breath.
"I said: 'What's going on? Where is Rebecca?
"He said: 'She's over there - there's no blood on me, luckily'.
"I glimpsed Rebecca's dead body, she was lying face down.
"As soon as I saw (her) I felt like I'd walked into a cold shower, my head was buzzing, I was shell shocked.
"He said: 'Pull up her hood and look at her face'.
"I said: 'I'm not pulling up her hood. I don't want to look at her face'."
The court heard that the two boys then ran from the forest, but did not report Rebecca's death.
Her body was found the next day after her mother reported her missing.
It is claimed his friend arranged to buy the defendant a breakfast if he carried out his threat to murder Rebecca.