Bridgend nurse Angela Lewis saves girl, 4, on holiday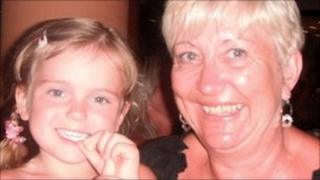 A nurse who saved a girl's life while on holiday in the Canary Islands has been thanked by her parents.
Angela Lewis was relaxing in Gran Canaria when she saw the body of four-year-old Emily Astbury being dragged from the swimming pool.
Ms Lewis, a children's nurse at the Princess of Wales Hospital, Bridgend, stepped in to resuscitate Emily, who was not breathing.
Emily, from Branston, Staffordshire, has since made a full recovery.
The incident happened last month while the Astbury were enjoying a family trip abroad.
Emily's mother, Jo, was putting shoes on her son, Thomas, when Emily ran ahead to the toilets, tripping and banging her head.
She fell into the pool and was rescued by a swimmer.
Ms Lewis, from Cefn Glas, Bridgend, saw Emily was not breathing and rushed to help.
She said: "I can't remember how I got to the side of the pool so quickly.
"I just knew straight away that the little girl needed emergency CPR and started compressions and assisted breathing.
"It seemed like a lifetime before the little girl vomited and I thought everything was going to be OK, but I had to keep doing rescue breaths, because she was not stable.
"A Scottish doctor, who was also on holiday, arrived and helped me. I kept giving her oxygen and stabilising her head and neck until the paramedics arrived 20 minutes later and took her to hospital.
'Quick actions'
"I had a message later in the evening saying that the little girl, Emily, was sitting up in bed watching TV. It was the best news I've ever had."
Emily was given the all-clear and released from hospital the next day.
Mrs Astbury and her husband Steven then tracked the nurse down at the hotel to say thank you and Emily asked her to join her for a swim.
"Angela Lewis is a very special person who has become part of our family," said Mrs Astbury.
"Her quick actions and the care that she showed Emily during this event were amazing and we thank her so much for what she did."
On arriving home from her holiday, Ms Lewis was sent a bunch of flowers by the Astbury family.