Injured jockey Isabel Tompsett moved to Welsh hospital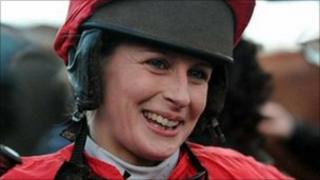 A jockey who was seriously injured in a fall while competing in Norfolk has been transferred to a hospital near her Carmarthenshire home.
Isabel Tompsett, 28, from Llandeilo, suffered head injuries after she was thrown from her horse on 22 May.
Ms Tompsett, a champion amateur over jumps in the 2009 to 2010 season, was on life support at Addenbrooke's Hospital, Cambridge.
She was moved to Neath Port Talbot Hospital on Tuesday.
Unconscious
Ms Tompsett was left unconscious after her mount, Leopold, rolled on her after falling heavily during the race at Fakenham racecourse.
After weeks in intensive care, she is no longer being medically sedated and is showing signs of improvement.
Her family and partner John Llewellyn have welcomed the transfer to the south Wales hospital on Tuesday.
"Isabel's mother Bridget received a call from Addenbrooke's yesterday morning to inform her that Isabel was going to be transferred that same day," said Injured Jockeys Fund chief executive Lisa Hancock.
"We weren't quite expecting it to happen this quickly, but it is great news that she will now be so much nearer to home.
"I understand that the Neath Port Talbot Hospital has a very good rehabilitation centre and it will enable Isabel to take the next step forward in her recovery."