Merthyr waste plant plan 'to proceed', says Covanta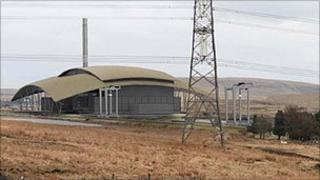 A company behind plans to build a £400m incinerator near Merthyr Tydfil says it will press ahead despite being told it cannot alter the design.
US based Covanta Energy wants to build an energy-from-waste plant which would burn 750,000 tonnes of non-recyclable waste every year.
The body examining its plans said the proposed changes were too significant.
Covanta said it was disappointed but it would still proceed with its original plans.
The company had asked the UK government's Infrastructure Planning Commission (IPC), which examines applications for nationally significant projects, if it could amend its plans.
Covanta said it involved a slight increase in the height of the main building but there would be no significant change in visual impact and it would not have affected the operation of the plant or the technology used.
But the IPC has ruled the changes were substantially different from those proposed in the original application.
Campaigners fighting the incinerator have welcomed the decision.
In a statement The United Valleys Action Group said: "We are pleased that the IPC will not allow these changes to Covanta's application.
"We have noted that some of the reasons given by the IPC for their decision would also apply to the original application.
"These included the visual impact on the landscape and the effect on our cultural heritage.
"Therefore we are hopeful that the IPC will give due weight to these important issues when reaching their decision on Covanta's proposed incinerator."
Construction traffic
Malcolm Chilton, Covanta Energy's UK managing director, said the amendments would have reduced the amount of landworks needed.
"While it would have raised the height of the building slightly, it would not have increased the stack height and it would have brought an overall benefit by reducing the amount of construction traffic," he said.
"We strongly believe our original application is robust.
"We will continue with the application as originally submitted and look forward to the IPC's examination process continuing."
A public meeting will now be held on 29 July at Merthyr Tydfil Leisure Centre to discuss how the application will proceed.
Interested parties need to submit their initial written representations by 12 September. It is unlikely the IPC will start to consider its recommendations until February next year.