BBC's 1950s drama The Hour is compared to Mad Men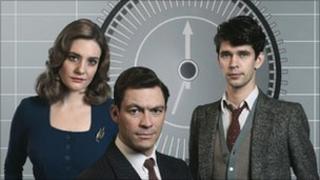 Cardiff-born playwright Abi Morgan's new drama The Hour was inspired by "a melting pot of real life characters".
Set in a 1950s BBC television newsroom, it has been compared to US hit Mad Men.
Starring Ben Whishaw, who played Keith Richards in Stoned, Atonement's Romola Garai and The Wire's Dominic West, it follows the relationship between female producer Bell Rowley, reporter Freddy Lyon and anchor Hector Madden.
The six-part series begins on BBC2 on Tuesday at 2100 BST.
Morgan's previous film and television dramas, including Brick Lane, Royal Wedding and Sex Traffic, brought her multiple awards.
But while last year's Royal Wedding drew heavily on her own 1980s childhood experiences in Wales, The Hour has taken her to a time over a decade before she was born.
But Morgan says the "struggles with fidelity, professional jealousies and political ambition are as rife now as they were in 1950, only with a little more glamour".
The drama of The Hour's newsroom is set against the backdrop of a rapidly changing world.
The 1950s saw the Suez Crisis highlight Britain's decline as a world power, while the emergence of rock and roll ushered in the phenomenon of the teenager.
Morgan told BBC Breakfast her writing had been inspired by journalists' memoirs, describing the male characters as "a little bit of Charles Wheeler... a little bit of Richard Dimbleby", while the female lead character is based on "inspirational" broadcaster Grace Wyndham Goldie.
"It was very intriguing for me how you actually balance facts and fictions. I hope it's a happy fusion of great historical event and just sort of licence to completely transform in other ways," she said.
"The great thing when you write a drama about journalists is there is just an incredible collection of memoirs and articles and diaries and books to look at."
The Hour includes the level of attention to detail which viewers have come to expect from the writer, who critics have described as scripting like a journalist herself.
Her thirst for period precision led producers on a hunt across London, in search of a location which could recreate the now-demolished BBC Lime Grove Studios of the day.
"Eve Stewart's set designs and Suzanne Cave's beautiful costumes transformed what was on the page into a thrilling landscape of corridors and edit suites, glamorous bars and private members clubs where the women are always elegant and the men are dressed like Hollywood matinee idols," said Morgan.
She said the chance to create a 1950s-inspired drama was "irresistible", having always loved "a drama with a deadline".
But The Hour is not all style and sexual politics.
A murder fobbed off as a robbery unravels to reveal "an explosive journey that goes into the heart of government", which Morgan uses to "expose a web of lies and deceit that our team must unpick".
The first of the six-part series The Hour broadcasts on Tuesday 19 July at 2100 BST on BBC Two.