Prisoner Gavin Williams, 28, absconds from HMP Prescoed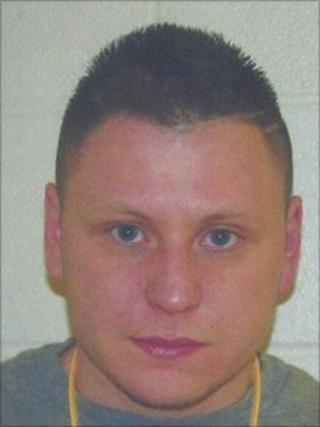 The public has been asked not to approach a prisoner who has absconded from HMP Prescoed in Monmouthshire.
Gwent Police said Gavin Williams, 28, was convicted of actual and grievous bodily harm in 2009, and there may be a "potential risk" to the public.
It is believed he has contacts in Maesteg, Bridgend and Cardiff. He was not serving a life sentence and is not a registered sex offender, police said.
Anyone with information is asked to call police on 101 if in Wales.
Williams is described as 5ft 10in (178cm) tall, with short brown hair, blue eyes and is of medium build.
In a statement, Gwent Police said: "It is believed there may be a potential risk to the public due to the fact that the individual is no longer in the custody of the prison service.
"Gwent Police has activated its operational plan with the aim of locating the individual and the prison are co-operating fully with us."