Flats plan will restore 'iron works' church at Dowlais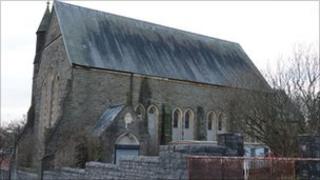 A Grade II listed church in Merthyr Tydfil with connections to the Dowlais Iron Works is to be developed into 20 apartments.
St John's in Dowlais houses the tomb of the iron works' owner John Josiah Guest, who paid for its construction.
His tomb's memorial plaque, the chancel steps, a memorial mural and pulpit will be retained for the public to view.
Local Merthyr county councillors welcomed the development to restore the church to its former glory.
Guest, also known as Sir Josiah Guest, owned Dowlais Iron Works up until his death in 1852 and he was buried in the church in an iron coffin.
The church, which is set on the corner of Upper Union Street and Church Row within the Dowlais Conservation Area, closed in 1997 after 170 years of holding services.
Coun Derek Games, chairman of planning and heritage champion with Merthyr county council, said the development was "excellent news".
He said the "significant" building was built by E A Johnson of Abergavenny and was paid for by John Joshua Guest, also known as Sir Josiah Guest.
"The church, which is a Grade II listed building, is noted for its strong historic connections with the Dowlais Iron Works and the Guest family," he said.
"I am delighted that this historic building is going to be put to good use for people in Merthyr Tydfil," he added.
Ward councillors for the Dowlais area, Coun Julian Amos and Coun Tony Rogers said they both welcomed the development.
"We know that many of the people will be delighted to see it restored to its former glory," they added.
Carolyn Jacobs, the information librarian at Merthyr library, is familiar with the church as she put on events in the building before it closed around 14 years ago.
"It's marvellous that something is being done," she said.
"Even when it was built it was inappropriately large for the (Anglican) congregation because the area has always been strongly non conformist," she said.
Ms Jacobs said that whilst the Guest family were still running the iron works it meant that their workers attended because of the "social control" of the family.
But when that came to an end, the congregation dwindled.
Originally it would have been quite a plain structure, but the Victorians added a spire, she added.
There is also a large sealed grave yard.
"There were horrendous problems with cholera and disease... but there have been no burials here for about a hundred years," she added.
One well-known feature is no longer at the church.
The Miner's Window was removed and is currently kept at Cyfarthfa Castle.
It has a modern-day connection with celebrity as it was paid for by Donny Osmond's ancestors, said Ms Jacobs.