Big Pit mining museum at Blaenavon to seek apprentices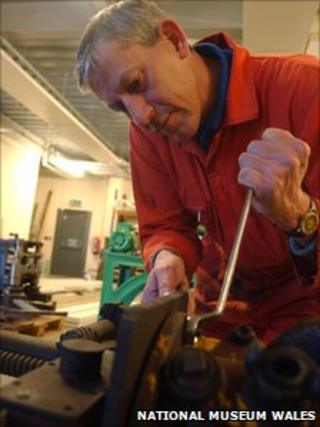 A mining museum in south Wales has launched an apprenticeship scheme to recruit its next generation of staff.
Although digging for coal has long since ended at Big Pit at Blaenavon, the qualification will give trainees the skills to work in a mine.
It has joined forces with Gower College Swansea to train aspiring young engineers.
Just over half of the museum's 65 staff are former miners, including 12 directly employed in engineering roles.
Mine manager Peter Walker said: "Coalmining has provided employment for generations of men in south Wales.
"It's really rewarding to be involved in creating the next generation of miners."
Officially known as the National Coal Museum, Big Pit was a working mine until 1980 and became a visitor attraction three years later.
Managers of the award-winning visitor attraction said that like the UK mining industry as a whole they had previously relied on engineers trained by the the former National Coal Board.
But they said an upsurge in the sector's fortunes with a growth in small private mines had led to increasing opportunities for new entrants.
The Big Pit scheme is aimed at attracting younger people who want to specialise in mechanical and electrical engineering.
It marks the culmination of a plan to train apprentices first unveiled in 2008.
Two trainees will be hired and will be given day release to study a four year NVQ Level 3 course at Gower College Swansea.
Mr Walker said: "The apprentices' time will be split between their academic studies and practical work here at Big Pit, learning about both the engineering and visitor sides of our operations.
"In the latter part of their apprenticeships they will be trained in mines rescue and join existing staff who work part time with the Mines Rescue Service.
Dave Cranmer, engineering learning area manager at Gower College Swansea, said: "Over the past few years there has been a real resurgence in the local mining industry and we are proud to be at the forefront of this exciting new training programme."