New brood of peacocks to make return to Cardiff Castle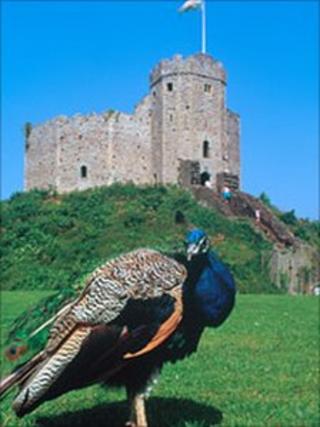 Peacocks and their bright plumage are to wow visitors to Cardiff's historic castle after a four year absence.
In 2007, keepers were forced to move the previous pride because they kept straying into the road while searching for mates and became a safety risk.
A new brood of peacocks and peahens is now being bred specially for the castle, where they have been popular with tourists in the past.
Once born, they will be released in the castle grounds later this year.
Cardiff council's executive member for sport, culture and leisure, Coun Nigel Howells said: "We are delighted to announce that in summer 2011 we plan to introduce a new flock of peacocks and peahens to the castle.
"We have invested in a new aviary which will alleviate the issue of the peacocks leaving the castle grounds during the night.
"We are currently waiting on the new castle flock to be born and as soon as we have more information we will share this with residents and visitors to Cardiff."
The previous pride was moved when experts became worried the birds would be hurt or even killed after crossing the road from the castle into shopping areas as part of mating rituals.
The group, which included three peacocks and five peahens, were given a new rural home at a farm in Pontardawe.