Karen Skipper murder: Family's '15 years of hell'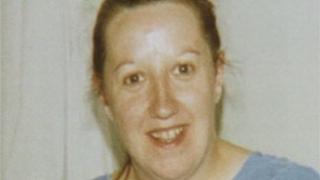 The sister of a woman murdered in Cardiff in 1996 says her family have been through "15 years of hell".
Heidi Matherson spoke after John Pope, now 62, was found guilty for a second time of murdering Karen Skipper, 34, and sentenced to life.
Her partially clothed body was found in the River Ely in Fairwater with her hands tied behind her back.
Pope was retried after his first convicted in 2009 was quashed by the Court of Appeal.
Ms Skipper's former husband Phillip stood trial for her murder in 1997, but was cleared.
The Newport Crown Court jury in Pope's second trial, who had been deliberating since last Friday, returned their guilty verdict by majority of 11 to one.
'Rest in peace'
Prosecutors said it vindicated their case through two trials and they hoped the verdict would bring "comfort" to her family.
After the trial, Ms Matherson gave a statement on behalf of the family, saying "justice has now been done and Karen can now finally rest in peace".
She thanked family and friends for their support, as well as senior investigating officer, Det Supt Stuart McKenzie and his team for their "kindness and their tireless efforts during the last two trials".
The court heard that the murder investigation was reopened with Pope as the suspect after improvements in forensic science.
One nagging doubt at Mr Skipper's trial was a blood stain found on the lining of of Mrs Skipper's pocket, the jury was told. The blood stain's DNA did not match either her or her husband, who has since died.
In 2006, Pope gave a sample of DNA after he was arrested for another offence. In 2007, a review of unsolved cases found that sample matched the DNA on the blood stain.
Pope was sentenced to life and told by the judge that he will have to serve 19 years in prison.