South Sebastopol homes plan rejected by Torfaen council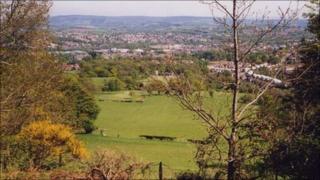 Plans to build up to 1,200 homes on former farmland near Pontypool have been rejected by Torfaen councillors.
The South Sebastopol plan, first mooted over 10 years ago, faced strong opposition, with concern over traffic, wildlife and the loss of green space.
Councillors voted to refuse the plans at an extraordinary meeting on Thursday.
Barratt Homes said it was disappointed by the recommendation to refuse and was considering its position.
The company has been working for more than a decade on the development with consortium partners Taylor Wimpey and the Welsh Government.
The extraordinary meeting on Thursday involved all Torfaen councillors sitting as the authority's planning committee, which voted 21-13 against the proposed development.
A number of people spoke against the scheme, including residents' groups, Torfaen Friends of the Earth, and the Campaign for the Protection of Rural Wales.
Carole Jacob, local co-ordinator for Torfaen Friends of the Earth, said: "It was a victory for common sense, which had these arguments been taken seriously in the first place, would have prevented this development ever likely to be considered," she said.
"Torfaen Friends of the Earth will continue its campaign to protect this site from development because it believes that it is too precious to local people," she said.
Torfaen council had agreed to grant planning permission in 2004, subject to a legal agreement on environmental safeguards.
But the authority said that as the agreement had not been completed for a "significant length of time", it needed to consider an updated application.
Huw Llewellyn, technical director for Barratt Homes, said the company was "considering its position regarding the recommendation for refusal" and noted that the council was informed by its own planning officers that an appeal to a refusal would be "very likely" to succeed.
He said such a decision would overturn the council's "long-established policy" for residential development in South Sebastopol.
"Barratt is disappointed with this recommendation on land identified for housing and allocated in the Local Development Plan," he said.
"The consortium proceeded with the application in good faith based on established planning policy principles.
"The application and over a decade of work and investment in the development by the consortium has been jeopardised by the committee attempting to overturn decisions it ratified only a few months ago."
The vote to refuse the development is due to be ratified by a meeting of the full council in September.