Kate Humble plans Monmouthshire rural skills centre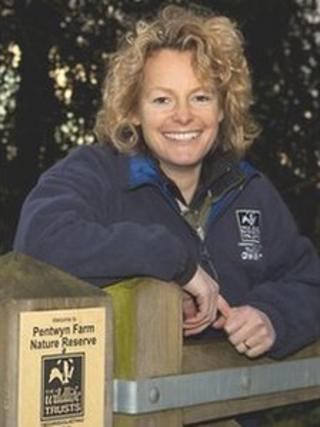 BBC TV wildlife presenter Kate Humble has put forward plans to set up a centre of excellence for rural skills on a Monmouthshire farm.
Meend Farm, near Penallt, would offer courses in sustainable farming skills, rural crafts and wildlife conservation.
Ms Humble says the centre would occupy a small part of the site which would continue to run as a working farm.
She is proposing a joint venture, with Monmouthshire council, which owns the land, retaining a 30% stake.
Council officers are recommending the plan be accepted at a cabinet meeting on Thursday.
Ms Humble, whose programmes include Springwatch and Lambing Live, said: "In coming years there is going to be increasing demand on our farmers and our land to provide food.
"Monmouthshire's backbone is farming and it is justifiably famous as a place where good food is produced," said the presenter, who lives in the Wye Valley with TV producer husband Ludo Graham.
"We want to create a business which allows people from all over the country to learn about how good food is produced, and how to do it themselves".
Renewable energy
The 118-acre (48-hectare) farm would also be promoted as a centre for renewable energy.
Mr Graham added: "We have wanted to open a centre like this for a long time, but location was the key.
"It is very important to us that this be a practical, commercially viable part of a working farm, which brings benefits to the wider community and the county as a whole.
"We feel we have now found the ideal location and are really excited that this could now come to fruition".
A report to Monmouthshire council cabinet members says the enterprise would generate income for the authority and stimulate the local economy.
The farm, which has been vacant since February, has been valued at £1.1m if sold off for development, or £750,000 as a working farm.
Planning officers say the difference could be more than made up by direct financial returns through the council's stake in the enterprise and spin-offs for local business.
Bob Greenland, the cabinet member for modernisation, enterprise and communications, said: "The venture would attract visitors from all over the UK providing a true taste of Monmouthshire as well as creating new jobs and a valuable learning resource for local schools."
He said the couple were keen to promote the centre's benefits to the local economy, and discussions have begun with food, tourism and business leaders.