London 2012: Millennium Stadium 'full for kick-off'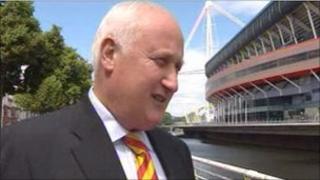 The Millennium Stadium's manager says he expects it to be full when the Olympics start in Cardiff in a year.
The stadium will host 11 football matches, the first of which will kick off on 25 July 2012, two days before the London games' opening ceremony.
Plenty of tickets still available, but stadium manager Gerry Toms said he believed there are enough high-profile games to ensure the ground is full.
He forecast high security, but said work was well under way on planning.
He said the Cardiff's role would be a "great honour" for the city.
Asked whether organisers would fill the stadium for the events, he said: "I think we will.
"We have got the opening game, we've got the bronze play-off, we've got quarter finals.
"I think what will happen is people will wait until the teams are announced, and that's the trigger."
While the stadium had hosted major sporting events and concerts, including the 1999 Rugby World Cup, Mr Toms said: "The Olympics is the biggest. This is world sport.
"We're just a small part in a big jigsaw of the Olympic Games, London 2012."
He said the entire objective was to "produce a safe games".
Mr Toms added: "In simple words, the higher the scale the event, the more intense the security becomes.
"These are world games - you don't get bigger than this - therefore the standard of security will be very high."
He said the stadium was working closely with police and Cardiff council on security issues.