London 2012: Cardiff event marks one year to Olympics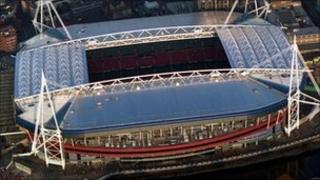 Sports stars are joining a celebration event in Cardiff to mark a year to the opening ceremony of the London 2012 Olympics.
Players from Cardiff City, Cardiff Blues, Glamorgan cricket and Welsh Athletics are at Roald Dahl Pass, Cardiff Bay.
Visitors can try different sports between 11:00 - 19:00 BST on Wednesday.
Cardiff will host the first events of the 2012 games - two women's football matches - on 25 July, 2012.
Those events will kick-off at the Millennium Stadium two days before the London 2012 opening ceremony, on 27 July.
Wednesday's event, organised by Sport.Cardiff, include sporting demonstrations, street dances and an inflatable football pitch.
The public will also be given the chance to volunteer to help local clubs and sporting groups.
Sport.Cardiff has been accredited with the London 2012 "inspire mark", for its scheme to encourage accredited volunteers and coaches.
Cardiff council's executive member for sport, leisure and culture, Nigel Howells, said: "This event marks an exciting 12-month countdown until what will be a fantastic international sporting spectacle.
"Cardiff is proud to be playing an important part of the Olympic Games, hosting the first event at the Millennium Stadium as well as being the selected training camps for several Olympic and Paralympic teams as they make last minute preparations for London 2012.
"We expect an international audience to have all eyes on our city and following the games we will continue to maintain a legacy that will provide excellent sports provision for future sports stars, aided through the hard work and dedication of volunteers."