M4 Brynglas tunnels: Call to reinstate M4 relief road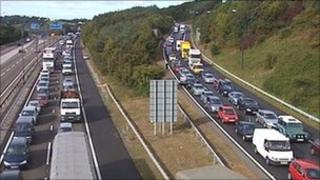 The Welsh Government has been urged by a Conservative Assembly Member to reinstate plans for an M4 relief road.
William Graham spoke after a lorry fire in the Brynglas tunnels at Newport caused traffic chaos.
Plans for the £1bn road were scrapped in 2009 due to cost, but the AM said the UK Treasury would have to be persuaded of its importance.
The Welsh Government is still looking at previous plans to divert M4 traffic onto a Llanwern steelworks road.
The westbound carriageway is still closed at the tunnels after Tuesday's fire, and a contraflow is in place, but drivers have been warned of further disruption .
One haulage firm, Hicks Logistics, based in Caldicot, Monmouthshire, said it lost £5,000 of income on Tuesday as a result of lost truck loads - a quarter of the business it does every day.
In July 2009 it was reported that the Welsh Government was in discussions with Corus to buy a stretch of a 3.5m (5.6km) stretch of private road at Llanwern steelworks.
It was hoped that 10% of the traffic around the city could be diverted from the congested M4 down the duel-carriage way.
Mr Graham told BBC Radio Wales a full M4 relief road was needed.
"We'll have to convince the Treasury that this is a one-off," he said. "It is really vitally important for south Wales to have this motorway planned and the budget agreed."
Mr Graham described the disruption to traffic as "a disaster".
'Major delays'
"It's something we've really dreaded... and this is why we were so disappointed when the M4 relief road was cancelled."
Graham Morgan, director of the South Wales Chamber of Commerce, said: "It's still the gateway to Wales and whenever this happens the perception it gives of Wales, I don't think is a good one.
"There's got to be some sort of contingency."
David Rosser, director CBI Wales, said such infrastructure cost a lot of money, but this was why such spending had to be focused on areas that make the biggest difference, such as the M4 relief road.
"The Welsh Government is full of reports telling them - they've admitted themselves - that the current M4 is operating well beyond capacity on a daily basis and has done for years," said Mr Rosser.
"Most periods throughout the day it works but like most people in south Wales I will not be the other side of the Severn Bridge on a Friday afternoon trying to get back into Wales.
"We need to look forward," he said. "This is not just about coping with problems now. Where do we want the Welsh economy to be in 10, 20 or 30 years time?"
'Desperate need'
Ian Gallagher of the Freight Transport Association (FTA) said: "There is a desperate need for Welsh Government to revisit the relief road that it pulled the plug on in 2009.
"Businesses in south Wales need decent, reliable and safe roads to function properly."
Mr Gallagher said hints by the Welsh Government that lorries carrying dangerous goods could be banned from the tunnel and routed elsewhere would be "a knee-jerk reaction" which avoided the real issues.
"This is not a lorry issue, this is a road issue," he said.
The Welsh Government said it was more aware than most of the strategic and economic importance of the M4 to Wales.
"In 2009 we announced plans to address issues around capacity, safety and resilience along the M4 corridor that were both deliverable and affordable, and as an alternative to the relief road scheme."
These measures included improvements to motorway junctions, train stations and park and ride facilities throughout south east Wales, a spokesman said.
"Last year we announced the purchase of the Queensway Road, which passes through the Llanwern steel works, which we plan to upgrade to a dual carriageway and which will provide an alternative route through Newport and improve the resilience of the network."