Jade Ruck detained in hospital for killing baby Harley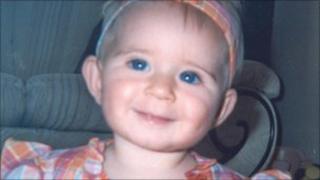 A court has heard how a mother told a 999 operator she could not handle her life any more moments after she stabbed her baby daughter to death.
Jade Ruck, 23, of Abergavenny, Monmouthshire, was ordered to be detained in hospital indefinitely.
She admitted stabbing 11-month-old Harley to death last November, but denied her murder.
Swansea Crown Court heard Ruck had dialled 999, saying she had stabbed her daughter with a kitchen knife.
She said: "Basically I've got a situation here - I don't know what's happening.
"I've got an 11-month-old baby and I've literally stabbed her.
Concerned
"I couldn't handle my life any more ... I've stabbed her with a kitchen knife."
The court heard that Ruck met Harley's father Dorian Twist in 2008, and when she became pregnant they moved into a flat together.
James Wilson, prosecuting, said: "But the father moved out before the baby was born and Jade had difficulties coming to terms with the end of the relationship.
"Her family noticed and were concerned with her welfare but baby Harley was happy and well looked after."
The court heard Mr Twist received a telephone call from Ruck in the days before before baby Harley was killed last November.
'Free now'
Mr Wilson said: "She was shouting and saying she was still in love with him and he needed to come and see her.
"Mr Twist was concerned and asked his mother to check on his ex-girlfriend and the baby."
The court heard police were called to Ruck's flat in at 05:30 GMT last November, and found Harley, who was days away from her first birthday, dead in the hallway.
Ruck was arrested after being found at her home with Harley's body at her side.
The court heard heard Ruck was acting as if nothing was wrong and told officers: "I'm free now, I'm alright as long as I'm free."
Peter Murphy QC defending, said: "It would be in Jade's best interests to be treated in hospital.
"The way she spoke before and after the attack was characteristic of someone who is seriously mentally unwell."
A post mortem examination revealed Harley suffered multiple stab wounds and there were also signs of strangulation and suffocation.
The judge Mr Justice Lloyd Jones ordered Ruck is detained in a Brigend clinic for an unlimited period.
A serious case review is being carried out into Harley's death and Monmouthshire Council has referred the case to the Care and Social Services Inspectorate Wales.