Sully Island trust campaigners hold family outing day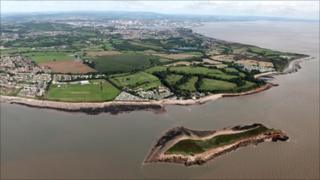 Campaigners hoping to buy an island just yards off the south Wales coast are holding a family fun day later.
The asking price for Sully Island off the Vale of Glamorgan coast was cut from £1.25m to £95,000 when it failed to find a buyer.
The Save Sully Island group aims to encourage 950 people to give £100 each to buy the island and set up a trust to preserve free access to all.
Thursday is the deadline for sealed bids for the island to be submitted.
A former haven for a Norman pirate and Middle Ages smugglers, the uninhabited grass and gorse-covered tidal island is classified as a site of Special Scientific Interest by the Countryside Council for Wales.
'Untouched, unspoiled'
Covering 14.5 acres (six hectares), Sully Island can only be reached via a causeway for six hours each day.
Sited about 400m from the mainland shore, it offers views to the west stretching up the Second Severn Crossing, and to the east people can see the hills of Devon.
The campaigners say if their bid is successful, they will leave it "untouched, unspoiled and open to everyone".
They were preparing to hold a gathering on the beach opposite the island on Saturday at 16:00 BST to raise awareness of the campaign.
Organiser Steve Shields said the "magical" nature of the island meant the campaign launched only three weeks ago had struck an emotional chord with the public.
He said: "People feel very strongly about it. People want to keep keep it free and safe - they have been enjoying it for generations."
Mr Shields said that in the event the campaign had not raised enough for the asking price by Thursday, the sealed bid would include a letter asking for an extension to the deadline.
'Phenomenal' interest
He said: "We know we could raise the £95,000 if we have the time. Hopefully the vendor will extend the deadline for us to raise the funds."
Sully Island was first put up for sale in May 2009 for £1.25m but failed to find a buyer.
It also failed to sell at auction last year with a £150,000 guide price.
Cardiff estate agents Cooke and Arkwright said interest in the sale had been "phenomenal" since its price was dropped.
The firm has said the island was unlikely to gain planning permission to become a private residence but something to cater for the site's many visitors might be approved.