M4 tunnel fire: Carriageway shut overnight for repairs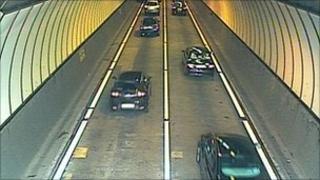 The westbound carriageway of the Brynglas tunnels on the M4 near Newport which was shut last week following a lorry fire has reopened after overnight repairs.
There was major disruption for drivers following the early morning fire last Tuesday.
The tunnel reopened on Friday but the westbound tunnel was shut overnight for temporary lighting to be installed.
Overnight repairs are to go on for a week.
The incident has re-opened the debate on whether an M4 relief road is needed.
The Welsh Government said engineers spent last Thursday carrying out a full structural, technical and safety inspection while a major clean-up operation continued.
'Expand and crack'
The eastbound tunnel was reopened last Tuesday afternoon with a contraflow system.
All damaged lighting in the tunnel was removed, and lighting in the eastern section was being cleaned, repaired and tested.
Despite the severity of the blaze, and the chaos that followed, the lorry driver escaped unhurt.
Drivers caught in the congestion reported taking up to an hour to travel a mile, with lengthy tailbacks spanning several junctions.
Last week, Rhodri-Gwynn Jones, director of the Civil Engineering Contractors Association Wales, said the heat from the blaze could have caused concrete to expand and crack.
Keith Jones, director of the Institution of Civil Engineers Wales, said the tunnel's steel roof, which was extensively damaged, would be removed so workers could get to the concrete lining underneath.
The cost of repairing the 44-year-old tunnel "could run from tens of thousands of pounds to millions, depending on extent of the damage", but would be covered by insurance, he said.