Gwent Police say armed siege at Chepstow house is over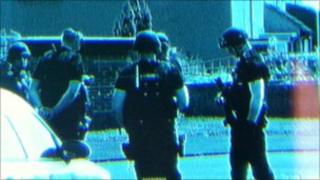 Gwent Police say a siege at a house in Monmouthshire where a 34-year-old man had threatened to harm himself is over.
Officers arrested the man in the house in Aust Crescent in the Bulwark area of Chepstow on suspicion of theft and possession of a firearm.
A police spokeswoman said a member of the public raised the alarm at 06:30 BST on Wednesday.
Specialist armed officers and negotiators were brought in to deal with the situation.
"A safety plan was immediately put in place to ensure the safety of all those involved and members of the public," said a police spokeswoman.
"Officers, including specialist armed officers and negotiators, were in constant contact with the man who was threatening to harm himself and officers," she added.
Gwent Police thanked residents for their "co-operation and support".
Monmouthshire county councillor Armand Watts praised the police for a "sterling job" in bringing the Chepstow siege to a peaceful end.
"I'm delighted it was dealt with appropriately," he said. "Police did a good job negotiating with him."
Neighbour Sarah Barley said she knew the man involved.
"There is a lot of support for him, as he's not very well," she said.
"Many people know him because it's such a small, friendly, village. We're glad it's over," she added.