Monmouth FC chosen for web fans' investment plan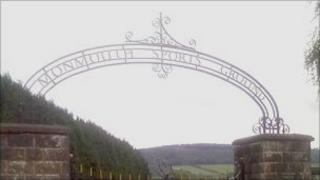 A Welsh League football club is about to become much richer after beating off almost 600 clubs to win funding from an online fans' website.
Monmouth Town FC has been chosen by Five Pound Football Club (FPFC) which gives would-be owners the chance to own a chunk by paying £5 each a year.
Initially £3,000 will be invested for a 5% stake in the Welsh League Division Two club.
But Monmouth chairman Lee Robson hopes this will go up to 51% over five years.
"I'm over the moon," he said. "If this comes off properly, it will be a fantastic boost for us, the town and football in the town.
"We've agreed to work with them. It's a chance for people to own a football club - but obviously they won't pick the team."
The origins of The Kingfishers, as the club is known, are thought to date back to 1905.
The nickname derives from a story that one pair of breeding kingfishers survived a flood in the 1930s by nesting in a deflated football, which floated down the Monnow into the River Wye.
The team won the Welsh League Division Three title last season to seal their fourth promotion in six years.
'Quite modest'
Kent-based FPFC, which formed in May 2010 and has over 500 members, offered 581 Welsh clubs the chance to be chosen for funding.
Eventually the list was whittled down to two with Monmouth seeing off Cwmbran Celtic.
"The money we will raise is quite modest in the English pyramid," said FPFC spokesman Nick Thompson.
"We decided to invest in a Welsh club because we believe we will be able to make more of a difference there.
"We looked at clubs in Scotland, Wales and Northern Ireland, and we decided at the beginning of the year to focus on a Welsh club.
"The funds are ready and we are still discussing the final points of the deal with Monmouth."
The scheme is similar to much larger one which in 2007 saw Blue Square Bet Premier side Ebbsfleet United chosen by internet venture MyFootballClub.
That club was thrown into the spotlight as £700,000 was ploughed into it by over 30,000 new fan "owners" who each made a £35 annual investment.