South Wales and North Wales Police send to London riots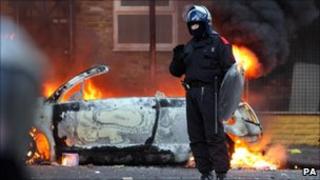 Two Welsh police forces have sent officers to London to help tackle violence after a third night of unrest.
At least 500 people have been arrested and more than 100 charged following the riots across London over the past three days.
South Wales Police have sent 54 officers from two public service units to assist London colleagues.
North Wales Police has also sent officers but would not give specific numbers for its deployment.
South Wales Police said the deployment will be reviewed as and when requests come from the Metropolitan Police.
The police support unit includes officers with specialised public order training
But Insp Bob Nichols stressed the force's sending officers to help in London is dependent on policing needs in south Wales and officer welfare.
Resources
Dep Ch Con Ian Shannon said: "This morning North Wales Police officers with specialist public order training and skills have been sent to assist colleagues in London.
"North Wales is a safe place to live, work and visit and we have sufficient resilience in the force to ensure it remains this way."
Dyfed-Powys Police said it has been contacted by the Met and is reviewing its response to the London riots.
"We are part of a national mobilisation scheme and are considering each request as it comes in," said a spokeswoman. "We haven't sent any resources yet but this may very well change before the end of the day."
Gwent Police said: "The demand for police resources is being coordinated nationally and Gwent Police will like all other forces provide support where required whilst ensuring we have the appropriate police resources to continue normal day to day policing in Gwent."
Birmingham, Liverpool, Manchester and Bristol have also experienced disturbances.