Anger as battle for Cherry Tree Inn in Tintern is lost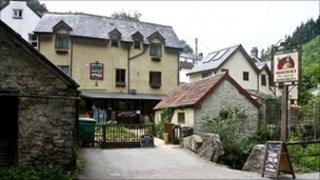 Campaigners say they are "amazed" as a Monmouthshire pub, which featured in the first 35 editions of the Good Beer Guide, is to be turned into houses.
The Cherry Tree Inn in Tintern closed last December and the owners plan to turn it into two three-bedroom homes.
Opponents, Friends of the Cherry Tree, wanted to keep the building as a pub.
The application had been recommended for refusal, but was approved after a vote by Monmouthshire council's planning committee.
"I'm absolutely amazed," said campaigner Paul Christie.
"There was huge local support for the pub staying as a pub and we had put forward very strong grounds why it shouldn't be approved.
"This is utterly against the views of people living locally. The pub has been there for hundreds of years and this is a very sad day.
"We will look over the next couple of days and see what we can do."
The Cherry Tree, which was put up for sale in 2006 at an original asking price of £560,000, dates back in parts to the 17th Century.
The pub had been approved for the Good Beer Guide every year since the guide began in 1972.
'Struggling financially'
It was the only Welsh pub to feature in every edition until 2008 before it had to shut its doors after being forced to remove a direction sign.
Owner Steve Pocock, who bought the pub in 2000 with his wife Jill, say they lost trade after Monmouthshire council said their roadside sign which pointed visitors up a lane to the pub, did not comply with planning regulations.
Mr Pocock re-opened the pub in 2009, and although had lost some of its regular customers during the closure, it was said to have coped moderately.
But it closed again last December, and while the owners live in the pub now, it has not re-opened.
The owners said in their application that the Cherry Tree has been struggling financially and further hampered by the sign issue, lack of parking and the loss of a post office that was based in a shop at the premises.
"This property has not made a profit in nine years," they said. "We have constantly had to borrow again and again to keep this business open."