Disused Vale of Glamorgan public toilet sells for £21k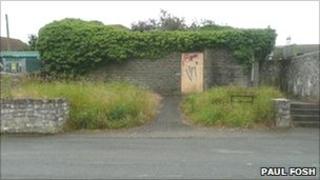 A disused public toilet at St Athan in the Vale of Glamorgan, has sold for £21,000 at auction.
Auctioneer Paul Fosh said he was surprised at the sum fetched as the building had a guide price of just £8,000.
The interest in the property was sparked after another toilet block with seaside views at nearby Ogmore-by-Sea went on the market.
Both toilets are owned by the Vale of Glamorgan Council.
The Ogmore-by-Sea toilet, with a guide price of £4,000, generated a huge amount of interest because it had stunning views over the Bristol Channel.
Paul Fosh from the Newport auctioneers said someone had been prepared to pay more than £100,000 for the block.
It was withdrawn from sale after it emerged it had been leased to the local Village Hall Association, which had plans to create a village hall there.
Mr Fosh said: "There was some disappointment at the withdrawal of the Ogmore-by-Sea property but having said that, there were the most attendees I have seen in an auction for perhaps two or three years, which shows that there is growing interest in all sorts of property.
"Interest in the sale of the public convenience at Ogmore-by-Sea, Vale of Glamorgan, was phenomenal.
"To give some kind of indication I had to send out 120 legal packs prior to the sale. Interest was such that I am confident that the property, in an ideal location with sweeping views over the Bristol Channel, would have sold for many times the guide price listed in the catalogue. "
The buyer of the boarded-up building in St Athan, which is surrounded by overgrown shrubs, is thought to have also been interested in purchasing the other public toilet at Ogmore-by-Sea.
They have not revealed what they plan to do with the property.