Maerdy protest church hosts fourth generation wedding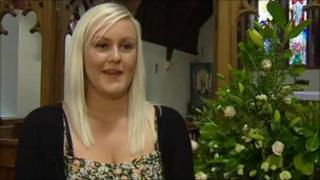 A bride will fulfil her dream to be the fourth generation of her family to marry in a Rhondda church, which was recently saved from closure.
Stephanie Rowe feared she would have to move the wedding elsewhere when plans were announced to close All Saints Church in Maerdy.
Parishioners accepted an offer to buy the building after a campaign.
The Archbishop of Wales had also said imminent weddings at the church would go ahead.
Ms Rowe said she was delighted the wedding on Saturday would take place at the church where her mother, grandmother and great-grandmother were married.
The plans were well advanced when the parochial church council (PCC), which is made up of elected members from the three local churches of Maerdy, Ferndale and Tylorstown - the benefice of Rhondda Fach Uchaf, voted to close All Saints.
The Maerdy branch had abstained from the vote over the church's future.
Opponents began a month-long sit-in which ended when the Church in Wales agreed to sell the building to them for a token sum of £1,000 to cover the costs of handling the sale.
Ms Rowe told BBC Wales she could hardly believe that her wedding to fiance Gavin Derrick would go ahead at All Saints.
"I think we've been through so much together as a congregation I thought it was all a dream at the beginning," she said.
"I've still got to pinch myself because I'm over the moon to be the fourth generation to walk down the aisle.
"I don't think anyone really understands how much it means for me to be able to do that."
More than 100 guests are expected to attend the service at 12:30 BST on Saturday followed by a reception at a local golf club.
Church officials had proposed closure saying the Victorian building needed £400,000 worth of repairs.
Worshippers who campaigned against the closure claimed repairs would only cost £100,000.