Lynnette White taxi driver told to 'keep mouth shut'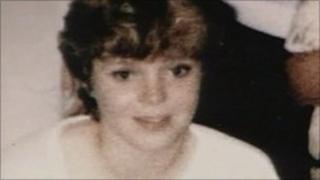 A taxi driver who detectives thought had information about Lynette White's murder was later warned "to keep his mouth shut", a court heard.
Jack Ellis was named in statements claiming to have been outside Miss White's James Street home in the early hours of 14 February, 1988.
The prosecution at Swansea Crown Court argue the statements are false.
Eight ex-police officers deny conspiracy to pervert the course of justice. Two other people deny perjury.
The court heard it was alleged at the time that five men who became known as the Cardiff Five were also outside the property. They went on to be charged with Miss White's murder.
Three would be wrongly convicted and jailed for life, only to be released in 1992 when the Court of Appeal quashed the convictions. The other two were cleared.
Prosecutors claim that some of the investigating officers tried to "frame" the Cardiff Five and at one stage believed that Mr Ellis had used his black cab to take them to or from 7 James Street.
Mr Ellis, who had known Miss White, told how he was put under pressure to admit he was there and to name the people in his Dixie Cars cab.
He said he stuck to his true account and refused to give in. He said he could remember the fares he had carried that night and he had not been in James Street.
A statement by his then wife Diane was read to the jury by Nick Dean QC, who is leading the prosecution.
She said she remembered answering a knock on the door of the couple's home in Caerphilly.
A man she described as being about 5ft 10in tall, of mixed race, and with a "hard looking face", asked her if her husband was at home.
She replied 'no'. He said: "It's about Cardiff.
"I became worried and went to close the door. The man put his foot into the doorway. I tried to close it but he pushed it open and it hit my face," she said.
"He said, 'tell him to keep his mouth shut'."
The then Mrs Ellis, who has since remarried, said she suffered a cut to her nose and bruising to her left eye and forehead.
In a later statement, she said the man had used the words: "If he knows what is good for him he has seen nothing."
The prosecution say that Mr Ellis's refusal to change his story led to police "air brushing" out his taxi and getting witnesses to change their description of the vehicle to that of a "dark-coloured Cortina," similar to one owned by Ronnie Actie, who would become one of the Cardiff Five.
Advances in DNA
It is alleged that the attempt to "brow beat" Mr Ellis was an example of how officers tried to manipulate witnesses into providing evidence that would support their theory about who killed Miss White.
But, 15 years later, DNA evidence would lead officers in an entirely different direction.
Jeffrey Gafoor admitted murdering Ms White and was jailed for life after advances in DNA led police to him in 2003.
Eight former officers involved in the 1988 probe are accused of conspiring to pervert the course of justice.
One of them, and two people who gave evidence, are also charged with perjury.
They have all pleaded not guilty. The trial continues.