Public Health Wales expects more cases of E. coli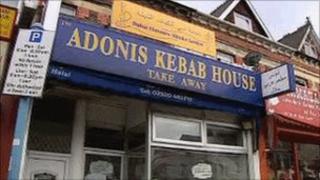 Health officials are expecting more confirmed cases of E. coli across south east Wales.
The outbreak has already led to seven cases of food poisoning, with three people taken to hospital, where their condition has been described as stable.
Public Health Wales, which is looking into two other cases, said numbers may increase on Monday "as people can be slow to go to the doctor".
Cardiff council has closed Adonis Kebab House on City Road as a precaution.
A multi-agency outbreak control team has been set up to lead the investigation.
The team is made up of Public Health Wales, and Cardiff, Rhonda Cynon Taf and Vale of Glamorgan councils.
E. coli O157 is a serious bacterial infection whose symptoms range from mild diarrhoea, stomach cramps and fever to bloody diarrhoea.
Experts say most people recover without complications, but the most severe cases can develop kidney failure.
'Vigilant'
Dr Gwen Lowe, consultant in communicable disease control at Public Health Wales, and chair of the outbreak control team, told BBC Radio Wales on Monday they were treating the outbreak "extremely seriously".
"On Thursday precautionary action was taken by Cardiff council and a premise was closed on a precautionary basis," she said.
"Behind the scenes there is an awful lot of follow-up investigation, methodical sifting through evidence, looking at the situation to find out exactly what may have gone on."
Dr Lowe said letters had been sent to GPs and out-of-hours services across south east Wales to alert them.
She said the incubation period for E. coli O157 was characteristically three or four days.
"Even though we took precautionary action on Thursday night, if anyone is incubating the disease at the moment they may not have developed symptoms," she said.
"So over the next couple of weeks we may expect to see more cases… so we need to be watchful, we need to be vigilant."
Contaminated food
People can become infected by eating contaminated food, through contact with farm animals or with contaminated water.
The infection can also pass from person to person and, while the length of the illness can vary, people are usually ill for up to two weeks.
To limit the spread of the illness, health officials recommend good hand washing after using the toilet or changing nappies, and before and after preparing food.
Earlier, Dr Prysor Williams, an environmental management lecturer at Bangor University, said this type of outbreak was rare.
He told BBC Wales: "There are about 1,000 cases per year in England and Wales as a total and they usually manifest themselves in individuals, really one or two per week.
"The incubation of E. coli O157 is approximately a week, so if the first cases are just popping up in the last few days then it can be expected that we will get a few more cases in the coming days or week.
"It all depends how many people have visited or eaten at this particular source.
"If it is proven to be one particular source then it all depends on the numbers that have interacted with that source."
Anyone who is experiencing symptoms of E. coli is asked to contact their GP or NHS Direct Wales on 0845 4647 for advice.
In 2005, a five-year-old boy died and more than 150 people, mainly children, became ill in an E. coli outbreak which struck 44 schools in south Wales.