E. coli: Welsh Tories urge mandatory food hygiene signs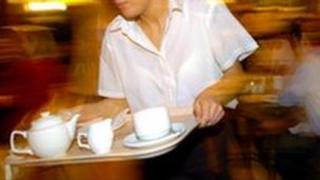 An E. coli outbreak has prompted Conservatives to call for restaurants and takeaways to be forced to display food hygiene ratings.
The kebab house at the centre of the south east Wales outbreak was inspected by Cardiff council less than a month ago, it has emerged.
The outbreak has led to seven food poisoning cases, and three in hospital.
The Welsh Government said Wales would be the first UK country to introduce a mandatory food hygiene rating scheme.
Assembly Tory leader Andrew RT Davies said outbreaks were too frequent.
Cardiff council has closed Adonis Kebab House on City Road, Roath, as a precaution.
It has now been revealed it was given a full inspection on 22 July and was rated as one out of five under the food hygiene scheme.
A Cardiff Council spokesperson said: "The current food business operator at Adonis has not been subject to any legal proceedings previously for poor food hygiene."
The spokesperson said after the full inspection, under the scheme, "a certain time scale" has to be given before publication of the rating to allow the opportunity for any appeal.
"The rating is due to be uploaded to the Food Standards Agency website by the 28 August," the council added.
Dr Gwen Lowe urged anyone who had eaten there since Monday, 18 July to help the investigation by sending their details via a form on the Public Health Wales website: www.publichealthwales.org.
A multi-agency outbreak control team has been set up to lead the investigation.
Public Health Wales had warned earlier that the number of cases could increase, but it announced on Monday afternoon that there had been no more identified so far.
Two people have been discharged from hospital, but one remains there, seriously ill. Another case remains under investigation.
Since October 2010, council inspections of firms serving, selling or preparing food have been used to calculate a rating of between zero and five, with zero the lowest.
It is not compulsory for firms to display their ratings but Mr Davies, a South Wales Central AM, believes it should be.
Referring to the 2005 E. coli outbreak in south Wales, in which five-year-old Mason Jones died, he said: "Regrettably it appears that these outbreaks are happening all too frequently.
"In 2005 we saw the tragic death of a very young child and in 2009 there was another serious outbreak in Wrexham."
Mason died after he ate contaminated meat supplied to his and 44 other schools in the south Wales valleys by a butchers in Bridgend in 2005. A further 157 people became ill. A butcher was jailed for a year in 2007.
Mr Davies added: "This latest outbreak is proof, if proof were needed, that we need to introduce a 'scores on the doors' system which would shame owners into action; or, at the very least, give consumers all of the information they need to make a decision."
The 2005 outbreak also led to an inquiry, headed by Prof Hugh Pennington, a microbiologist, who called for more resources to go into food safety.
Mr Davies said that despite Prof Pennington's recommendations, the Welsh Government has been slow to act on introducing legislation on food safety.
"It is unfortunate that the Welsh Government are only now initiating discussions and consultation around this with a view to bringing forward a bill at some time in the future.
'Precautionary action'
"They should be in a position to legislate now, not instigating yet more discussions."
A spokesman said the Welsh Government "utterly refuted" the accusation that it had not taken action in responding to Prof Pennington's inquiry.
"There was no recommendation by Professor Pennington to introduce 'scores on the doors'," said the spokesman.
"However, the first minister has been clear that we will bring forward a draft food hygiene rating scheme bill for consultation at the end of this year and work has already started on this.
"It will allow the Welsh Government to make mandatory arrangements for providing consumers with easily understandable, at-a-glance information on the hygiene standards of a food business so they can make better informed choices about where they eat out or shop for food.
"Wales will be the first country in the UK to introduce a mandatory food hygiene rating scheme."
The spokesman said Consumer Focus Wales' second annual report on the implementation of Prof Pennington's report found "great strides" had been made in protecting the public from food-related illness.
E. coli O157 is a serious bacterial infection whose symptoms range from mild diarrhoea, stomach cramps and fever to bloody diarrhoea.
Experts say most people recover without complications, but the most severe cases can develop kidney failure.
Farm animals
The outbreak control team which is leading the investigation into the current outbreak is made up of Public Health Wales, and Cardiff, Rhonda Cynon Taf and Vale of Glamorgan councils.
The incubation period for E. coli O157 is characteristically three or four days, and people can become infected by eating contaminated food, through contact with farm animals or with contaminated water.
The infection can also pass from person to person and, while the length of the illness can vary, people are usually ill for up to two weeks.
To limit the spread of the illness, health officials recommend good hand washing after using the toilet or changing nappies, and before and after preparing food.
Anyone experiencing symptoms of E. coli is asked to contact their GP or NHS Direct Wales on 0845 4647 for advice.